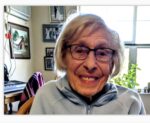 Alice Ann Fink (Jaunich)
February 6, 2023
Fink
Alice Ann (Jaunich), age 95 of Delano, passed away on February 6th, 2023. She was born on the family farm west of Delano to Peter and Mamie (Motzko) Jaunich. Alice was the third child born into a family of two brothers and four sisters.
Alice attended Delano High School, graduating in 1945. During her high school days, Alice worked at the Minneapolis Iron Store. Upon graduation, she worked for an insurance company in Minneapolis until she was married to the love of her life, Al Fink, in 1946. Their son Tom was born in 1947.
In 1951, Alice started worked for the Delano Granite Works, Inc. After working for 19 years at the Granite Works, Alice was hired at Hennepin Parks (now Three Rivers Regional Park). She would continue working for the Parks until her retirement in 1989.
She loved to play golf, watch movies, read, listen to music, go on walks, tend to her flower garden, travel, and visit with her family. Alice was fortunate enough to have traveled to Taiwan, Brazil, Alaska, Europe (several times), Israel, Canada, and many states within the USA. A highlight of Alice's life was the Liturgical Choir Pilgrimage to Rome in 2004. There, she was able to witness Mass at the Vatican, and briefly sang for the Pope.
The church was a pillar of Alice's life. She was an active member of the Delano Catholic community, attending daily Mass, singing in the church choir, and volunteering at the Catholic Elementary School.
Alice was preceded in death by her parents; her husband Al in 1985.
She is survived by her son Thomas (Karen); grandchildren Andrew (Leah) Fink, Leslie (Marcus) Voss; Great-Grandchildren Olivia and Mya Voss.
Memorial Mass of Christian Burial will take place at 11 AM on Thursday, May 4th, 2023 at St. Joseph's Catholic Church in Delano, Minnesota. Luncheon to follow the inurnment in Handzel Hall.