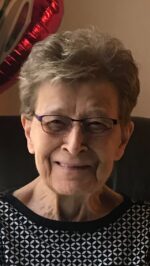 Beverly (Bev) Grams
November 18, 2021
Beverly Yvonne Grams (Krugerud), age 81, passed away peacefully on November 18, 2021 at her residence of Cokato Manor in Cokato, Minnesota. She was the fifth child of seven born to Helmer and Jennie (Wold) Krugerud on March 8, 1940 in rural Dawson, Minnesota. She was baptized on May 12, 1940 at Lac Qui Parle Lutheran Church in Dawson, Minnesota and confirmed in faith on September 12, 1954 at Grace Lutheran Church in Dawson, Minnesota.
Bev graduated from Dawson High School in 1959, where she was crowned Homecoming Queen. She met Milo at a mutual friends wedding and they wed on July 18, 1959 at Trinity Lutheran Church in Dawson, Minnesota. Bev and Milo were blessed with four children: Rick, Janell, Robin and Dawn.
Beverly and Milo resided in Delano, Minnesota until 1993 when they bought their dream home on Waverly Lake in Waverly, Minnesota. They spent nineteen fantastic years at their lake home fishing, gardening and making countless cherished memories with their loved ones. Bev enjoyed spending time baking and playing games with her grandchildren. She loved her years of camping with her siblings and carrying on annual traditions of making lefse and cookies during the holidays.
Beverly's unconditional love and zingy one-liners brought joy to everyone she met. She taught us about love, grace, forgiveness, and finding the beauty in all things.
Beverly was preceded in death by her husband Milo of 62 years; her parents Helmer and Jennie Krugerud; grandsons Cole and Chase Grams and great grandson John Carlson. Bev is survived by her children: Rick (Sandy) Grams, Janell Yager, Robin (Greg) Close, Dawn (Josh) Etzler; twelve grandchildren and eighteen great grandchildren as well as her six siblings. She will always be in our hearts; long live her memory.
Funeral services were held on Tuesday, November 23, 2021 at 11 a.m. at Mt. Olive Lutheran Church in Delano, Minnesota. Visitation took place on Monday from 4 to 8 p.m. at the Iten Funeral Home in Delano. Visitation continued on Tuesday from 10 to 11 a.m. at the church prior to the services. Interment was in the W. Mt. Olive Cemetery in rural Delano.