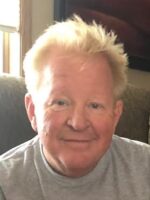 Cary "Swede" Swenson
September 8, 2021
Cary "Swede" Swenson – An ever loving and caring son, husband, father, and grandfather, a trusted teammate, coach and mentor to hundreds and a friend to all – passed away peacefully at home Wednesday Sept 8, 2021 at the age of 63. He was surrounded by his family who will continue to honor his legacy.
His final lesson to us all is that of caring. People may forget what he has said, and they may forget what he had done, but they will never forget how he made them feel. Throughout his life he never stopped taking care of people. From his time as a counselor for children to his decades of work in public safety for the state of MN, and through the tremendous care he put towards his family, his lifelong friends, and for his community. We may not have always liked what he had to say, but we knew he was saying it from a place of caring.
He was a mirror for us all. Reflecting back on us what we were putting out.
Cary was born to Allen "Swede" and Grace (Schultz) Swenson on June 4, 1958 in Buffalo MN, and attended and graduated from Delano High School in 1976 where he met the love of his life Lori (Olson) Swenson at age 15, and many of his lifelong friends. He began his early years of marriage in St. Cloud, after bringing their first son Matthew into the world on June 17, 1980.
Shortly after Cary graduated from St Cloud State University, where he made many lifelong friends as a member of the baseball team and many organizations on campus, he started work as a counselor for abused children for St. Cloud Children's home, and then for Abbott Northwestern Hospital.
The couple then moved back to Delano to build their life together with the arrival of their second son Aaron in July of 1984, built their first home together and Cary started his lifelong work in making MN a safer place through the Minnesota Safety Council where he remained devoted for over 32 years.
His dedication to family, friends and community continued to shine through as a volunteer on the Delano Planning commission, the Athletic club, the annual salt drive for the baseball program and most importantly as a coach to his sons and their peers where he continued to leave his touch on many lives within the community he loved so much.
In recent years he was able to retire with his wife in 2018. They had plans to continue to travel the world together and with many close friends, but unselfishly put plans on hold to spend more time with Matthew who moved back home from Los Angeles after 18 years out west and their son Aaron, his daughter-in-law and their first grandchild Kira.
Throughout his life Cary has touched so many lives and it has been reflected with the overwhelming love and support of his family, friends, teammates, co-workers and all who have shared time with the caring man who we all knew as Swede.
Cary is survived by his wife Lori; sons Matthew and Aaron (Kristen); granddaughter Kira; mother Grace; sisters Neta Bauman and Kris Pepin, as well as many distant family and friends.
A Memorial Service was held at 2 PM on Tuesday, September 14, 2021 at the Delano United Methodist Church. Visitation was Monday, from 4-8 PM and continued Tuesday, 1-1:45 PM prior to the service all at the church. Covid Vaccination is preferred for attending the service. Masks are REQUIRED.