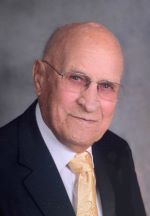 Clyde Rumpza
March 22, 2022
Clyde Michael Rumpza was born at his parent's farm on November 14, 1929, to Michael and Lorena (Justus) Rumpza. He attended grade school at Oak Lake Rural school east of Watertown. Active in Vo Ag department at Watertown High School. FFA in high school (state secretary one year). Began farming with his father while still in high school and continued farming after graduation in 1948. He married Patricia Murn Oct. 3, 1953, entered the U.S. Army (drafted) the same year in December. After army service he bought his father's farm and farmed until 1994, expanding his operation several times.
He was elected to the Mid America Dairy Cooperative board of directors in 1979 and served until 1990. At the time of his retirement from this board he was chairman of the Northern Division, had served the longest term on the Corporate Board, and was chairman of the finance committee. Served on the National Milk Producers board. Member of the board of Spring Valley Cheese and Watertown Bremer Bank from 1973 to 1993.
Clyde served his parish, Immaculate Conception in Watertown, in two building programs, the present church building and Religious Ed Center. He was a trustee of his church for several years. He was an extraordinary minister of the eucharist and was always ready to volunteer help when needed. Member of "Charlie's Angels" for several years.
Clyde set up a woodworking shop when he retired from milking cows and was always busy with projects for family and friends. He contributed many projects for various fund raisers. He also enjoyed fishing in the summer. His very favorite hobby was playing cards, Bridge, 500 and Cribbage. Clyde was loved by everyone wherever he went for his wit, warmth, and willingness to help.
Clyde was preceded in death by his parents; son Mark; brother Ambrose and his wife Marie; and brother Harlan and his wife Idella. He is survived by wife Patricia; daughters Karen "Kay" Rumpza and Laura (David) Paquette; sons Paul and Michael (Anne); grandchildren: Rosa Lauber; Benjamin, Aaron, Maureen Randall; Elizabeth Lunsford; Stephanie, John, Joseph, Mary, Brother Florian, Thomas "Tommy Clyde", Anthony, and Ashlee Mader; great-grandchildren Kyle, Vivian, Paul, Adeline, Dannielle, Zoe, Morrison, Chloie, Calvin, Matthew, Evangeline, Leona, and Milo; many nieces and nephews.
Memorial Mass of Christian Burial was held on Tuesday, March 29, 2022 at 11 a.m. at Immaculate Conception Catholic Church in Watertown, Minnesota. Gathering of family and friends was held in the church on Tuesday from 9 to 11 a.m. prior to Mass. Inurnment was in the church cemetery.
The Mass was live-streamed through the link provided below: