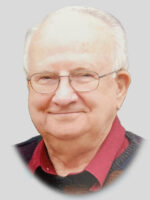 Donald R. Bruhn
May 6th, 2022
Donald Ralph Bruhn "Don" age 90 of Buffalo, MN, formerly of Maple Plain, passed away peacefully on Friday, May 6th, 2022. He was born March 2nd, 1932 to Elmer and Alma (Peterson) Bruhn in St. Bonifacius.
Don was a loving husband, father, grandfather, great grandfather, brother and friend to many. He grew up in Mound, MN and graduated from Mound High School. Don met his future wife, Mary Helen Sprinkle after she backed into his car in the church parking lot. They were married on May 16th, 1954 at First Baptist Church in Homestead, Florida and moved to Minnesota in 1959. They were blessed with one son and four daughters.
Don attended the Maple Plain Community Church for many years. In his later years, Don was a part of the ministry team at Haven Homes in Maple Plain. He used his skills in carpentry and enjoyed reading, hiking, drawing, painting, gardening, and planning road trips.
Don was preceded in death by his wife of 65 years, Mary Helen; parents Elmer and Alma Bruhn; sister Barbara Walters. He is survived by his children Donald (Michelle) Bruhn, Mary Kay (Dwight) Martin, Phyllis (Joel) Brue, Susan (Paul) Eckdahl, Carol (Doug) Olson; grandchildren Daniel Bruhn, Hannah Lansing, Tim Martin, Crystal Wilkinson, Amanda Hughes, Anna Thomas, Heather Dettman, Heidi Parker, Lydia Mlynarczyk, Tyrell Eckdahl; 23 great grandchildren; sister Margaret Sheehan.
A Memorial Service was held at 7:00 p.m. on Thursday, May 12th, 2022 with a Gathering of family and friends from 6-7 p.m. at the Iten Funeral Home in Delano. Private family inurnment in Lewis Cemetery, Maple Plain.