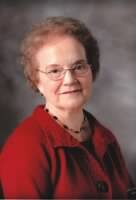 Genevieve (Jean) Farniok
October 18, 2021
Genevieve Farniok returned home to her Lord Jesus Christ on October 18, where she was reunited with the love of her life, husband Bob, who preceded her in death on October 31, 2007. Genevieve "Jean" will forever be known for her unending and undeniable love for her family. We are comforted to know she is resting in peace. Surely the heavens are playing the polka music they enjoyed so much throughout their lives together – and they're dancing the halls of heaven to the Lord's delight!
She was born on March 3, 1930, to Anthony and Elizabeth (Pogreba) Schaust in Franklin Township, Minnesota alongside her twin brother, George.
Jean was a graduate of the Delano class of 1948. She married Ambrose "Bob" Farniok in 1950 and they had 14 children. Jean was a beloved daughter, sister, mother, grandmother to 34, and great-grandmother to 23. She was a consummate homemaker, baker, and a faithful follower of the Catholic Church.
Jean was preceded in death by her husband, Bob; her daughter Peggy; her grandchildren Stacy Vanderlinde & John DeTrude; her son-in-law Allen Swanson; her parents, Anthony and Elizabeth (Pogreba) Schaust; her siblings/their spouses Matilda (John) Florek, Leona (George) Fake Sr., Anthony Schaust Jr, Betty (Rich) Gabrelcik, Loren (Dorothy) Schaust, Joe (Lorraine) Schaust, George (Joan) Schaust; Leonard (Maxine) Schaust; Matt Schaust; and brother-in-law Glen Litfin.
She is survived by her children Jane (Dennis) Sticha; Judy Farniok (Tom Swanson); Kathy Farniok (Erik Englebretson); Robert (Sharon) Farniok; Rita (Lance) DeTrude; Mark (Kay) Farniok; Wanda (Mike) Vanderlinde; Carmen (Ronald) Swartzer; Jean (Don) Romer; John (Kim) Farniok; Wendy (Ned) Schroeder; Dan (Traci) Farniok; Bill Farniok (Maren Bassett); 34 grandchildren – Carrie (Brian) Jacobs; Valerie Swanson; Charlie & Danny Englebretson; Nathan (Dana) Farniok; Laena (Tim) Gennrich; Johnelle (JD) Heitschmidt; Genevieve DeTrude; Marcia Farniok (Joe Ditsch); Travis (Chelsea) Farniok; Amanda (Tarun) Bhatia; Elizabeth (Kevin) Barlow; Tim (Heather) Vanderlinde; Michelle Vanderlinde; Danielle (Josh) Scanlon; Michael (Maggie) Vanderlinde; Chris (Allie) Swartzer; Jennifer (Josh) Converse; Nick & Michael Romer; Megan Stayley; Leah Romer; Andrew (Roxy) Farniok; Justin (Nicole) Farniok; Jacob Farniok; Ryan (Megan) Schroeder; Kyle (Ashley) Schroeder; Sydni & Aubri & Levi Farniok; Liam & Avery Farniok. 23 great-grandchildren – Mason & Sawyer Farniok, Otto Heitschmidt, Adalyn & Cora Ditsch, Eleanor & Caroline & Leona Farniok, Divya & Niam Bhatia, Claire Vanderlinde, Maverick Vanderlinde, Tyler & Emma & Jackson & Ava Swartzer, Nora Dubay & Ryker Converse, Anthony & William & Rachel Stayley, Amelia & Gavin Schroeder; son-in-law David Romer; sister Arlene Litfin; sisters-in-law Delores Schaust and Estelle Schaust.
Mass of Christian Burial at 11 am Wednesday, October 27, 2021, St. Maximilian Kolbe Catholic Church, St. Peter's campus, Delano. Visitation Tuesday 4-8pm with 3:30 p.m. rosary service in Martha's Hall of St. Peter's. Visitation continued on Wednesday from 10 to 11am all in Martha's Hall prior to the Mass. Interment Calvary Cemetery in Delano, Minnesota.
When Jean was asked, "How can you love that many children?" She replied, "With each one your heart just expands, getting a little bigger." – Genevieve Farniok
The Mass will be live-streamed through the link provided below: