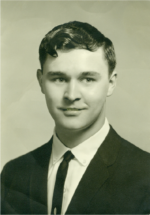 James Allen "Jim" Degn
March 28, 2021
James Allen "Jim" Degn, age 73 of Fairfax, MN passed after a long and courageous battle with larynx cancer on Sunday, March 28, 2021. He was born December 24, 1947 in Hutchinson, MN to Grant and Olga (Opsahl) Degn.
Jim spent his childhood days in the idyllic countryside always in the company of his many siblings. He went to high school in Howard Lake, MN and excelled in typing class and shorthand. Shortly after graduation, Jim was hired at Sun Papers in Bloomington, MN where he worked as a typesetter for nearly a decade.
During the Vietnam War, Jim was called to serve in the United States Army. Jim was stationed in Thailand where he served as a secretary to his commanding general. After the war, Jim returned to his home in Minnesota and his work at Sun Papers.
In his free time, Jim enjoyed playing the piano for friends and family. Jim never took any formal lessons but was self-taught and learned to play the piano by ear. Jim enjoyed visiting with family and friends and always requested his host or hostess put on a pot of coffee before he arrived.
Later in life, Jim worked as a cook at the Red Rooster in Dassel, MN and the Tin Cup in St Paul, MN where he befriended many of the local patrons. Jim was outgoing and easily struck up a conversation with others. Jim's laugh was distinct, endearing and easily drew you in. He was kind and generous and everybody wanted to be friends with Jim.
After spending many years living in an urban environment, Jim desired to return to the quiet and calm that he had known in his childhood. Jim bought a small house of his own in Fairfax, MN where he enjoyed working on minor home improvement and gardening projects to keep him busy. During his time in Fairfax, Jim began having several health issues. Despite his many ailments, he was always in good spirits and was up for a visit with family and friends where you could be sure to be treated to cookies and other home baked goods. Jim was the kind of guy you could talk and laugh with for hours on end and he will be deeply missed by those who were touched by his selfless acts and his unmistakable laughter.
Jim was preceded in death by his parents and his siblings Curtis, Wayne, Dennis, and Caroline (Hartman). He is survived by his siblings Sharon Peterson, Joyce Drews, Terry (Rita), and Randy (Mary); as well as many nieces, nephews and friends.
Memorial services were held on Thursday, April 8th at 11 AM at the Iten Funeral Chapel in Delano, MN. A Gathering of family and friends took place from 9 to 11 AM on Thursday prior to the services. Inurnment with military honors in the Ft. Snelling National Cemetery: Assembly Lane #3 at 1 PM.