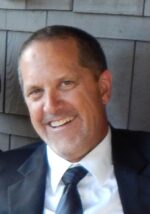 James G. "Jim" Dahl
April 17, 2021
James Gerald "Jim" Dahl, age 59 of Delano, passed away on Saturday, April 17, 2021. He was born to Elmer and Geraldine (Fuchs) Dahl in Minneapolis, Minnesota.
Jim was a loving husband, father, grandfather, brother, uncle, and friend to many. He grew up in Paynesville, Minnesota, and graduated from Paynesville High School. He attended Wadena Vocational Technical Institute to become an electrical lineman for Xcel Energy, where he devoted more than 30 years helping keep people's lights on.
Jim loved to spend time hunting and fishing with his children, brothers, and faithful furry companions, Dillon and Louis. He cherished the time he spent coaching his children's sports teams and cheering them on.
Jim was preceded in death by his parents, Elmer and Geraldine Dahl, his siblings Mary, Jacob, Joseph, and Jason Dahl, and an infant brother. He is survived by his wife, Margaret; his children Eric Dahl (Brooke Parlby), British Columbia; Conner Dahl, Eden Prairie; Jonathon Dahl, Alexandria; Alyssa LeBlanc, Shakopee; and Rachel LeBlanc, Eagan; granddaughter Marley Rivers; his siblings John (Kim) Dahl, Spicer; Jeff (Jackie) Dahl, Lake Henry; JoAnn (Denny) Spaulding, Paynesville; Jerome Dahl, Sauk Rapids; and Jack (Peggy) Dahl, Paynesville; and sister-in-law, Karen (Joseph) Dahl, St. James.
Greet the family to pay your respects on Friday, April 23, from 3 p.m. to 6:30 p.m. at the Delano Senior Center, 234 Second Street North, Delano, MN 55328. A private family service followed at 7 p.m. Memorials are preferred in lieu of flowers.