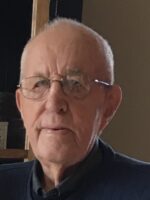 James (Jim) Janicula
November 5, 2021
James Janicula "Jim" age 96 of Delano passed away peacefully Friday, November 5, 2021 surrounded by family.
Mass of Christian Burial was held at 11 a.m. on Friday, November 12th at St. Maximilian Kolbe Catholic Church, St. Peter's campus. Visitation took place from 4 to 7 p.m. on Thursday and continued 10 to 11 a.m. Friday all at St. Martha's Hall of St. Peter's. Interment with a Fire Department Honor Guard was held in the E. Mt. Olive Cemetery, Delano, Minnesota.
Jim was born on November 25, 1924 to Frank and Clara (Motzko) Janicula in Woodland Township, Minnesota.
He was a loving husband, father, grandfather, great-grandfather, brother, uncle and friend. He was united in marriage to Joyce (Sinkel) of Delano and together they raised four children. They lived in Delano all of their lives.
Jim was a self-employed milk hauler with hired men serving dairy farmers in central Minnesota for 40 years. He worked for Twin City Milk and Mid-America.
He enjoyed gardening and took pride in the appearance of his property. Playing cards with family and friends was something he immensely enjoyed and did so whenever he could. In his younger years, his activities included league bowling, fishing, hunting, mushrooming, waterball with the fire department and traveling. In later years in his pastime he enjoyed puzzles, word searches and watching baseball and football.
For 42 years he was a member of the Delano Volunteer Fire Department, in which 10 of those years he served as the Assistant Fire Chief. He served on the Board of St. Joseph Church and the Crow River Villa Board each for 10 years.
Jim was preceded in death by his wife of 72 years Joyce, parents Frank and Clara Janicula; brother Marvin Janicula; sisters Lorraine Meehan and Carol Theisen; parents-in-law John and Ruth Sinkel, brothers-in-law John Sinkel Jr., Winslow Sinkel, LeRoy Sinkel, sisters-in-law Marie Sinkel, Shirley Sinkel, Pat Sinkel, Lorraine Janicula, and brother-in-law Arnie Mense.
He is survived by his loving family, sons Gary Janicula, Bruce (Linda) Janicula, daughters Kathryn Quist and Lori (Brian) Anderson. Nine grandchildren, Kari (Steve) Rankin, Chad Quist, Ryan Janicula, Jesse (Logan) Janicula, Scott Quist, Keegan Janicula (Sky Guthrie), Lesley (Ben) Berscheid, Barry (Sara) Janicula, and Chris (Andrea) Anderson. Sixteen great-grandchildren, Kaylee Kouri, Hailey, Madison, and Isabel Rankin, Brogan Stoddard and Taylor, Norah, Blair, and Cameron Berscheid, Casey and Mason Quist, Walker Quist, Dylan and Piper Janicula, James Janicula, and Ava Anderson. Sisters, Pat Janecula and Elaine Mense, brother-in-law Harold Theisen and many special nieces, nephews and special friends.
The mass will be live streamed through the link provided below: