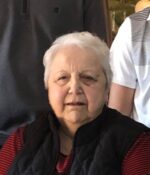 Jean Becker
March 7, 2022
Jean Marie Becker age 73 of Rockford passed away on Monday, March 7, 2022. She was born June 15, 1948 to Virgil and Marie (Kranz) Morin in Hamel, Minnesota.
Jean was a loving wife, mother, and grandmother. She always had time for family and relished doing things for them. Jean's house was always warm and welcoming and open for everyone. Growing up we knew we could always bring our friends over to the house and treats would be waiting for us on the table. She took great pride in knowing that when you came to her house, you were loved and taken care of.
Jean loved the outdoors and especially spending time with family at the camper in Annandale. Although she did not like being on the water herself, she truly enjoyed watching from afar. Jean was known for a lot of things; her compassion, her desire to help others, and her huge heart are just the tip of the iceberg.
Jean enjoyed cooking, but her love was to bake. Jean showed her love for her family and friends through her sweet treats, you always found some kind of dessert in her kitchen. Getting a plate of Christmas cookies from Jean was something people looked forward to each year. When planning family gatherings or reunions, we knew we could always count on Jean for the desserts. Jean's true pride and joy were her four grandkids. She loved her grandkids like no other and her world revolved around them.
Jean was united in marriage to Joseph John Becker Jr. on April 19, 1969 at Ss. Peter and Paul Catholic Church in Loretto, Minnesota. She made her career as a cook in the Rockford High School School retiring in 1999.
Jean was preceded in death by her husband Joseph Jr.; parents Virgil and Marie Morin; brother Wally (Diane) Morin; and three brothers-in-law Laurel, Donny, and Bruce; parents-in-law Joseph Sr. and Ramona (Toots) Becker.
Jean is survived by her children Lorie (Brandon) Gusse, Joe Becker III (Andrea), Wendie (Brandon) Scanlon; grandchildren Logan and Bradley Gusse and Kaylie and Jack Scanlon; sisters JoAnn Flemming, Ellie (Mike) Rux, Glady (Dave) Reiser, Dolly DesLauriers Rosie Huebner; sisters-in-law and brothers-in-law Rozanne (Richard) Arens, Judy (Bill) Thunberg, Jeanne (Curt) Dockter, Pam Van Beusekom (Rob), Teresa (Tony) Maher; as well as many nieces, nephews, cousins and friends.
Mass of Christian Burial was held on Tuesday, March 15, 2022 at 11 a.m. at Ss. Peter and Paul Catholic Church in Loretto, Minnesota. Visitation took place on Monday from 4 to 8 p.m. at the Iten Funeral Home in Delano and continued on Tuesday at the church for one hour prior to the Mass from 10 to 11 a.m. Interment was in the church cemetery. A luncheon followed the conclusion of the graveside service.
The Mass was live-streamed through the link provided below: