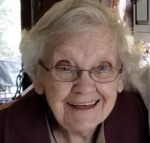 Jo Ann Bloom
May 2nd, 2022
Jo Ann Bloom, 94, of Rockford, MN died Monday, May 2, 2022 at Methodist Hospital, St. Louis Park, MN. She was born March 11, 1928 in Ohio to Vertie and Beulah Rodgers Butcher. She was born, grew up in Ohio, and graduated high school from Brookville, Ohio. She was a true Buckeye.
On December 24, 1948, she married her high school sweetheart, Charles Bloom and enjoyed married life for 60 years. They enjoyed gardening, canning, camping, and visiting family. Jo Ann loved watching football, especially the Ohio State football games. She was a loving and devoted wife, mother, and grandmother.
She was preceded in death by her husband; a brother and sister-in-law, Charles and Ruth Butcher; her sister and brother-in-law, Rosalie and Harry Carman; and a nephew, David Butcher.
She leaves behind to cherish her memory her eldest son, Thomas Bloom; second son and daughter-in-law, Steven Bloom and Maria Banda; three grandchildren, Kathleen (Dennis) Bergen, Kevin (Kimberly) Bloom, and Robert Bloom (Carolyn Carlson); a great granddaughter, Abigail Bergen, numerous nieces and nephews, beloved in-laws, and wonderful friends.
The funeral service will be held on Saturday, June 11, 2022 at 1 PM CST at Messiah United Methodist Church, 17805 County Rd 6, Plymouth, MN 55447 with Rev. Steve Richards officiating. Inurnment with her husband will follow at a later date at Fort Snelling National Cemetery in Minneapolis, MN.