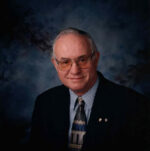 Karl Van Beusekom
March 1, 2022
Karl John Van Beusekom, age 85, of Buffalo, Minnesota, formerly of Delano, Minnesota, was called home to the Lord on Tuesday, March 1, 2022. He was born on January 16, 1937, in Minneapolis, Minnesota to John and Frances (Kittock) Van Beusekom. He is remembered as a loving husband, father, grandfather, great grandfather, brother, uncle, cousin and friend.
Karl grew up on a farm in rural Delano where he cherished farming with his family and, later in life, often regaled anyone who would listen with stories of this time period, reflecting on it as one of the happiest of his life. After graduating from Delano High School in 1955, Karl served in the U.S. Army from 1957 until 1962 when he was honorably discharged, achieving the rank of SP4. He had an exceptional work ethic, dedicating 38 years of service to Dairy Fresh Creamery in Minneapolis. He also worked a second job, serving as a landscapist for the Jones's Estate on Lake Minnetonka for many years.
In his spare time, Karl was an active outdoorsman and an avid fisherman. He delighted in sharing these experiences with his family. Along with fishing, his faith was his passion. He was an active member of the Delano Catholic community and he was a prayer warrior for anyone in need. He was a devout Catholic and active 4th Degree member of the Immaculate Conception Knights of Columbus Council.
Karl fancied storytelling and indulged in the sharing and receiving of them, especially stories about his brothers, cousins, and friends. He also enjoyed spending time "shooting the breeze" at Coborns. He was known for puttering around the house, where he liked to work jigsaw puzzles, read, watch westerns, and listen to music, especially polka and country western. He was an avid fan of Dr Phil's show on TV and his entire family knew not to call him during that time.
Karl will long be remembered for his loving, kind, and inclusive soul. He found amusement in the simple pleasures of life. He had a sweet tooth for cookies and ice cream, particularly Dairy Queen where he frequently treated his loved ones. He was proud of his Dutch heritage, sporting a windmill in his yard and singing the celebration song "Lang zal ze leven" at parties and funerals.
Karl is survived by his wife of 38 years, Marcy; children Joseph Van Beusekom, Timothy (Lisa) Van Beusekom, Anthony (Nancy) Van Beusekom, Suzen (Siavash) Safari, Roseanne Pyrlik, and Cindi (Karston) Anderson; Grandchildren Evan Van Beusekom, Kendra (Dan) Helvig, Cole (Lauren) Van Beusekom, Reba Van Beusekom, William Van Beusekom, David Van Beusekom, Shaheen Safari, Sabrina Safari, Julia Pyrlik, Emma Pyrlik, Karrah (Alec) Anderson, Whitney (Tom) Kavanagh, and Kyler (Stephanie) Anderson; Great grandchildren, Jack, Grayson and Eliza Helvig, Liam Van Beusekom, Teddy and Elliott Kavanagh; brothers Mark (Karen) Van Beusekom and Jeff (Leta) Van Beusekom; sisters-in-law Mary Van Beusekom and Sharon Kaiser; as well as many nieces and nephews, cousins and friends.
Karl was preceded in death by his parents; brother Roger Van Beusekom; and parents-in-law George and Monica Kaiser.
Memorial Mass of Christian Burial was held at 11:30 AM on Friday, March 11, 2022 at St. Maximilian Kolbe Catholic Church, St. Peter Campus, in Delano. Gathering of family and friends was held on Friday morning, starting at 9:30 with a K of C 4th Degree Rosary. Visitation continued until 11:30 AM in St. Martha's Hall of the St. Peter Campus in Delano. Inurnment with military honors was in Calvary Cemetery in Delano, Minnesota.
The Mass was live-streamed through the link provided below: