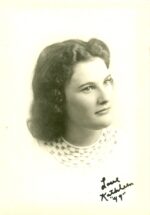 Kathleen Marie Johnson (McGrath)
January 20, 2022
Kathleen Marie (McGrath) Johnson
March 26, 1931 – January 20,2022
 Kathleen Marie (McGrath) Johnson passed away Jan. 20, 2022 at the age of 90 at her home in Hollywood Township, MN.
 Kathy was born in Woodland Township to Walter and Margaret (Murphy) Mcgrath on March 26, 1931, 
 After her graduation from Watertown High School in 1949 Kathy attended teacher training in Glencoe. She was a teacher at Hollywood Country School District 76. Years later, she was a substitute teacher in Watertown and New Germany. 
 Kathy enjoyed dancing, singing, and perfect handwriting, which was very important to her as a teacher. It was at a dance at Waverly Hall she met Glenn Johnson. They were united in marriage on January 13, 1951 and celebrated 71 years of marriage. She was blessed with four children, four grandchildren and four great-grandchildren. Kathy and Glenn lived on their farm in Hollywood Township for their entire married life. She loved the farm and her family very much. 
 Kathy was a shining light to so many. She passed away in the home she created with her husband. She was at peace after she was given her last rites in a visit from Father Peter Hughes. 
She was a lifelong member of Immaculate Conception Church in Watertown. A Mass of Christian Burial took place on Friday, January 28, 2022 with Bible verses and songs Kathy chose. Interment was in the church cemetery. 
 Kathy was preceded in death by her parents, Walter and Margaret McGrath; sister, Mary Lou Nevels; brother and sister-in-law, James and Teresa McGrath; father-in-law and mother-in-law, Harris and Selma Johnson; sisters-in-law and brothers-in-law, Harriet and Ed Kennedy, Rachel and Keet Carlson, Elaine and John Kemper, Georgia and Donald Carlson, Francis and Ethel Newstrom, and Edna Newstrom. 
 Kathy is survived by her husband of 71 years, Glenn; children, Bruce (Helen) Johnson, Ken (Mary) Johnson, Karen (Al) Leuthner, and Joan (Brad) Hayes; grandchildren, Jackie (Brendan) Bolduc, Brad (Kayla) Johnson, Landon Hayes, and Ryan Johnson; great-grandchildren, Marielle Bolduc, Kiera Bolduc, Braxton Johnson, and Jaylynn Johnson; nieces, nephews, and friends. 
In memory of Kathy, do something kind for someone, and make them feel like they matter.