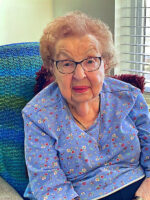 LaVern G. Bauer (Jaunich)
May 23rd, 2022
LaVern Gladys Bauer age 101 passed away on Monday, May 23, 2022. She was born October 8, 1920 to Paul and Anna (Motzko) Jaunich in Delano, Minnesota.
LaVern was a loving wife, mother, grandmother, great grandmother. She was generous, hard working and faithful to her faith and family. LaVern's focus was her family, grandchildren, great grandchildren and special friend to many.
She grew up in Delano and attended St. Peter's grade school before graduating from Delano High School. LaVern went onto cosmetology school and made her career as a beautician. She worked throughout her career in the Minneapolis area and was actively working until her 80th birthday.
LaVern was united in marriage to Harlan Wayne Bauer in 1945; and to this union two children were blessed.
LaVern was preceded by Harlan on April 10, 1984 and by her son Craig Michael Bauer on December 10, 2018; siblings Gladys Violet (Roman) Eckes and Irene Gardner; brothers-in-law Kenneth Gardner, and Marven Luke. She is survived by her daughter Cheri (Jeff) Strand; grandchildren Aric Bauer, Kandi Bauer, Randy Bauer, Troy Strand; Great grandchildren Arica Bauer, Oliver Strand, Owen Strand and Samuel Strand; great great grandchildren Ayden and Everson Bauer; sister-in-law Anita "Mick" Luke.
Memorial Mass of Christian Burial was held on Wednesday at noon on June 1, 2022 at the Basilica of St. Mary Catholic Church in Minneapolis, Minnesota. Visitation took place for 1 hour prior to the services in the church on Wednesday. Inurnment will be in Ft. Snelling National Cemetery at a later date.