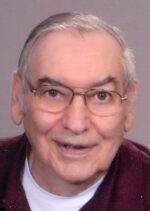 Lawrence R. Bauman
February 15, 2022
Lawrence Richard Bauman, age 90, of Delano died peacefully on February 15, 2022 at Havenwood in Buffalo, MN.  He was born June 23, 1931 to Herbert and Catherine (Muckenhirn) Bauman in Delano, Minnesota.
Lawrence graduated from St. Peter's Catholic School and Delano High School and served in the US Army during the Korean War; he was honorably discharged.  It was while working in Colorado that he met Anni Schneider.  The two were united in marriage August 25, 1956 at St. Anthony Catholic Church, Sterling, CO.  They moved back to Minnesota to begin their life on the farm.
Lawrence was preceded in death by his parents Herbert and Catherine Bauman; brothers Joseph (Marcella), John (Patricia), Clarence and Stephen; sisters Catherine (Dan) Bauer, Rita (Peter) Schmitz and Dorothy Jean (Jerry) Griep; brothers-in-law Bill Metz, Jack Gillis; sister-in-law Jean Bauman.
Lawrence is survived by his wife of 65 years, Anni; children Christine (Ron) Vieau, Michelle (Jim) Smith, Ken (Lori) Bauman, Jerome (Mahlon) Bauman, Katy (Evan) Vaala and Ben Bauman; grandchildren Jacqueline (Michael) Wood, Kelly (Brian) Jacobs, Cody (Paige) Bauman, Matthew (Sara) Smith, Tanner Bauman, Jamie Smith, Ted Vaala, Ruby (Eli) Mastin, Liz Vaala, Miranda Smith, Victoria Bauman and Sam Smith; great grandsons Hudson Lawrence Wood and Paxton Bauman.
Lawrence is further survived by brothers Robert (Helen) Bauman and Anthony Bauman; sisters Caroline Metz and Rosemary Gillis; in-laws Darlene Bauman, Judy Stein, Irene Schneider, Larry (Mary Catherine) Schneider, Norman Greenfield, Helen Morgan and Katherine Guenzi.  Also, many nieces and nephews.
Memorial Mass of Christian Burial was held at 11 am on Wednesday, February 23, 2022 at St. Maximilian Kolbe Catholic Church, St. Peter Campus, Delano. Family and friends gathered on Tuesday, from 4-8 pm with a 3:30 Rosary service, continued Wednesday, from 10-11 am prior to Mass, all in Martha's Hall, St. Peter Campus. Inurnment with military honors was at Calvary Cemetery in Delano.
In lieu of flowers, memorials preferred.
The Mass was live-streamed through the link provided below: