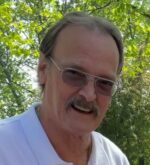 Mark Roiland
October 2, 2022
Mark David Roiland, 62, died peacefully with family by his side, Sunday October 2, 2022. Born September 13, 1960 in St. Louis Park, Minnesota to Darlene (Anderson) Roiland and Thomas Roiland. A graduate of Mound Westonka High School, Class of 1979. Married 20 years to Sharon (Krumm) Amman, divorced in 2003 and remained friends.
A lifelong resident of Minnesota, Mark worked for Red Owl in Hopkins for 9 years. Mark enjoyed driving School Bus for the Mound Westonka Public School District for 3 years. A member of St. John's Lutheran Church in Mound, he worked there as the Maintenance Superintendent for the bulk of his career. Mark was a true handyman. Family, friends and neighbors could always count on him when they needed help mowing their lawns, painting their houses, mechanic work or plowing snow.
Being an avid outdoorsman, Mark enjoyed fishing, hunting, trap shooting, car racing, boating, snowmobiling and more. Mark loved to spend his summers at the lakeside cabin with his family and friends. Mark loved watching sports, he was a huge Minnesota Vikings and Twins fan and he enjoyed playing catch in the backyard. He was a great cook, loved to grill and make homemade pepperoni pizzas for his family.
Preceded in death by his parents Thomas and Darlene Roiland and his brother Scott Roiland. Mark is survived by his sister Lynne (Dan) Robertson, ex-wife Sharon (John) Amman, son David (Katelyn) Roiland, son John (Ashley) Roiland, daughter Katie (Aaron) Burke, three grand-children, Ruby and Adalena Roiland, Vivien Burke, sister-in-law, JoAnn Roiland, niece Rachel (Travis) Hanenburg, grand-niece Bridget Hanenburg, niece Claire (John) Buchanan, niece Paige (Ryan) Shuman, grand-niece Rory Shuman, nephews Chase and Jake Robertson and numerous extended family and friends.
A memorial service was held at 11 AM on Wednesday, October 19th at St. John's Lutheran Church in Mound, Minnesota. A visitation was held starting at 10 AM and continued until the service begins. A luncheon followed the service.