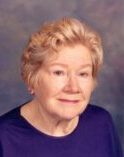 Martha "Marty" Weber
January 15, 2022
Martha  "Marty" (Howard) Weber
Feb. 6, 1923 – Jan. 15, 2022
Mass of Christian Burial was held at 10 AM on Saturday, January 22, 2022 at Sts. Peter and Paul Church in Loretto, MN.  Visitation was one hour prior to Mass in the church.  Interment at 1:30 PM in the St. Louis Catholic Cemetery in Paynesville, MN.
Born near Rush Springs, OK, Marty grew up in a tennant, dirt-farming family and had a natural curiosity about everything. She loved going to school when she could as well as her teachers at the Rocky Ford school who fed that curiosity which developed into a lifelong passion for learning. Upon high school graduation, a rarity in those days, those same teachers recommended her to and helped her get a scholarship for a program in Oklahoma City for training staff workers to work in the just beginning war effort.
She accepted a military secretary pool position in Washington DC.  Once there it didn't take long for her to want to "do more", so she and a girlfriend moved across the river to Maryland and accepted positions as "Rosie Riveter" operators and eventually she became a machinist. While living in Baltimore, she met a dear friend that would eventually lead her home to both the Catholic Church and, after the war, Minnesota. Her next stop helping with the war effort was to work at Embry Riddle in FL where her don't-take-no-for-an-answer determination got her flying lessons.  After becoming a pilot, she applied for and was accepted into the WASP (Women Airforce Service Pilots) program.
After the war and following a short stay in California as a model she moved to Minnesota where she met Douglas, which led to both their marriage on Jan. 30, 1950 and his deep and complete conversion to the Catholic faith. In addition to being a wife, over the next 30 years she spent time as a waitress at the Nankin Cafe, teacher and chemist (both of which she studied at the U of M,) seamstress, patternmaker, and clothes designer. Her years as a mother also saw her spending plenty of time volunteering in numerous ways including PTA, Cub Scout leader, and at Branch II (predecessor of Sharing and Caring Hands) food shelf in Minneapolis.
After retiring, she and Douglas moved to Paynesville, MN.  These more relaxed years had her volunteering at the St. Louis Church's Befriender program, helping with Bible studies, taking siblings on trips to scour for family tree information, and becoming a devoted grandmother.  A few years after Douglas' death, she wanted to be closer to her grandsons so she moved to Loretto.  When not with her grandsons, she could be found volunteering at Ss. Peter and Paul, helping with Bible studies, spending time working on her poetry, and becoming a writer.
Preceded in death by her parents, siblings: Radford, Cecil, Margaret Hare, Berry, Joe, one who died in infancy, Bertie Bolman, and Gilbert, and "her love" and husband Douglas Weber.
Survived by sister Flora Leaila Pettijohn of Marlow, OK, son Patrick (Terese) Weber, grandsons Douglas, John (Katrina), Peter, and Michael all of Minnesota, and numerous nieces and nephews and their families.
The Mass was live-streamed through the link provided below: