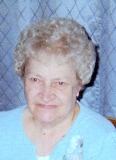 Mary (Marie) C. Kowalke
July 23, 2017
Mary (Marie) Catherine Kowalke, age 78 of Woodland Township, Minnesota passed away Sunday, July 23, 2017 at her home. She was born on September 10, 1938 to Jacob and Margaret (Pillatzke) Bokusky in Franklin Township, Minnesota. She was united in marriage to Donald T. Kowalke on June 1, 1964.
Mary loved to celebrate holidays, especially her birthday. She enjoyed decorating the house for each holiday. Mary loved to bake and cook and loved to share Christmas baskets with friends and family. Mary always looked forward to socializing with her ladies aid group from her church. She also looked forward to going shopping at her own pace.
Mary was preceded in death by her husband Donald; infant daughter Joann; parents Jacob and Margaret; siblings Louis Bokusky, Leo Bokusky and Laura Karels; brothers-in-law George Karels, Sr. and Leo Neaton.
Mary is survived by her children Patrick Kowalke, Charlene (Mike) Mengelkoch, Robert Kowalke, Judy (Kevin) Hierlmaier, Michael (Shondell) Kowalke; 11 grandchildren Sheila, Jesse, Jason, Teigan, Resche, Shane, Mitchell, Zachary, Shane, Alexandrea, Thaddius; 5 great grandchildren Brody, Jameson, Masson, Haeden, Parker; siblings Helen Neaton, Ed (Gerri) Bokusky and Joe (Diane) Bokusky; as well as many nieces, nephews, cousins and friends.
Funeral Services were held on Wednesday, July 26, 2017 at 4:00 PM at St. Paul Evangelical Lutheran Church in Montrose, Minnesota. Visitation was Wednesday, from 2 – 4 PM prior to the service at the church. Serving as Pall Bearers for the service were Marty Neaton, Jim Bokusky, Daryl Karels, John Karels, Tom Karels, George Karels. Honorary Bearers were Roger Biersdorf, Dale Karels, Diane Hoiland and Carol Goetz, LuAnn Schendel. Interment was in the church cemetery.