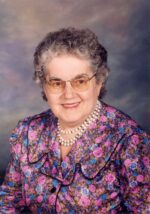 Muriel M. Schwerin (Wandersee)
November 12, 2021
Muriel Marlene Schwerin, age 85 of Delano, Minnesota passed away Friday, November 12, 2021. She was born on June 3, 1936 in Montrose to Arthur and Lydia (Topel) Wandersee. She was baptized and confirmed at Mount Olive Lutheran Church in Delano.
Muriel was a 1954 graduate of Delano High School. She was united in marriage to Gerald Schwerin on November 17, 1954 at Mount Olive Lutheran Church in Delano.
Muriel was a lifelong, active member of Mount Olive Lutheran Church. She sang in the church choir, was a member of the women's club, and cooked at the Mount Olive School. Muriel volunteered at the Wise Penny Thrift Store for 30 years. She also worked at the Long Lake Nursing Home and for a short time, owned and operated while cooking at BoDos Café in Delano.
Muriel enjoyed spending time at the lake cabin with family. She also enjoyed reading her bird and garden books, volunteering, flowers (especially violets), watching high school girls and boys basketball, MN Twins baseball, skating, coloring pictures, and needlepoint.
Muriel was preceded in death by her husband of 40 years, Gerald; infant daughter Lynn Marie; parents Arthur and Lydia Wandersee; infant sister Mary Wandersee; and sister Janice (Andy) Beckstrand. She is survived by her children Carolyn Ebbe, Roxanne (Mike) Hoppe, Randy (Gretchen) Schwerin, Dale (Linda) Schwerin, and Dean Schwerin; 11 grandchildren Laura (Keith) Browning, Chad (Jaclyn) Hoppe, Christopher (Tasha) Hoppe, Craig Hoppe, Chantelle (Eric) Gieseke, Courtney (Michael) Hoppe, Crystal Hoppe, Matthew (Dorinda) Schwerin, Ashley (Brad) Roepke, Tina (Tracy) Vetruba, Jason Hinkemeyer, and Ryan Schwerin (Kristin); 26 great grandchildren; 2 great great grandchildrem; sister Cheryl Wandersee; and many nieces, nephews, other relatives, and friends.
Funeral Service was held at 11 AM on Friday, November 19, 2021 at Mount Olive Lutheran Church in Delano. Visitation was be 4-7 PM Thursday and continue Friday, 10-11 AM ALL at the church. Interment was in the East Mount Olive Cemetery in Delano. In lieu of flowers, memorials preferred.