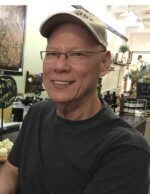 Roger Dean Perez
February 24, 2021
Roger Dean Perez of Delano, MN passed away peacefully at home on February 24, 2021. A lifelong martial artist Roger remained strong, fit and active. He was teaching karate classes via Zoom until just prior to his passing of unexpected natural causes at the age of 76.
Survived by his wife Sara Perez (Peterson), his brother Max Perez and sister-in-law Debie and his brother-in-law Gary Peterson. Preceded in death by his sister Sandra Peterson and parents Max Sr. and Mildred Perez.
Roger grew up in Chicago. He attended military and private high schools. He joined the Air Force and finished his H.S. degree while in the service and seeing the world. Roger was an Aircraft Jet Engine Mechanic of the C-130 propeller transport aircraft in Vietnam.
Roger started his karate career in 1968 studying under a world renowned Sensei Shojiro Sugiyama. Roger achieved his first black belt in 1980. By 2001 before he left Chicago to help family in California he had refined and improved his skills to earn a 5th degree black belt. He was one of the top students and instructors and founded a karate club which continues to flourish today called the Chicago Kitoh Shotokan -Sugiyama Karate-do.
Roger had further education degrees in psychology, philosophy, sales, business and teaching. He was hard working, energetic, knowledgeable and helpful. A man of many talents he held a variety of jobs. Some of Rogers main careers were Medical Equipment Radiology Regional Sales for hospitals in MN and IL, Instructor at a Trade School, and Account Executive in CA, and as a Karate Sensei in Chicago.
Roger met his bride to be Sara in California and they enjoyed 19 wonderful years in each other's company.
Roger was a great listener, thoughtful, concise and direct in his conversation and advise. Roger was a very positive person and had a great sense of humor. Roger's martial arts community and our community will dearly miss him.
There will be no public services. Roger's life will be celebrated in a gathering of the immediate family.
Memorials for Roger please direct to Iten Delano Funeral Home, P.O.Box 94 Delano, MN 55328. (763)972-2891.