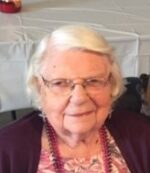 Rosella "Rose" Muckenhirn
July 28, 2021
Rosella Marie Muckenhirn "Rose", age 91 of Buffalo, formerly of Delano passed away peacefully on Wednesday, July 28, 2021 at the Glenn Memory Care in Buffalo, Minnesota. She was born on September 24, 1929 in Buffalo, Minnesota to Frederick and Ellen (LaPlant) Otten. She was the nineth child of fourteen.
Rose was united in marriage to Clemens L. Muckenhirn on October 9, 1952 at St. Francis Xavier Catholic Church in Buffalo.  They raised their four children on the family farm outside of Delano. 
Rose was a loving wife, mom, grandma, and great grandma. She enjoyed spending time with family, dancing to polkas and waltzes, working in her flower gardens, canning, playing cards, doing word finds,  putting puzzles together.
Her love of music (listening and singing) took her on a journey to the Vatican as a member of the St. Peter Catholic church choir. She was an active member of St. Peter Catholic Church in Delano.
She was a member of Homemakers, Delano American Legion Auxillary, volunteer with 4-H, and worked in catering and cleaning at the parish office and rectory.
Rose was preceded in death by her parents; husband Clemens; siblings Leo (Adeline) Otten, Ed (Bernice) Otten, Emily (Oscar) Gilles, Leonard (Adelaide) Otten, Bert (Betty) Otten, Marion (Ray) Muckenhirn, Joe (Dee) Otten, Fritz (Marie) Otten, Adeline (Ambrose) Dalbec, Dick (Marlowe) Otten, Bob Otten, Bernard Otten, and Jim Otten.
She is survived by children Jim (Patti), Tom (Valerie), Lori (John) Salonek, and Chuck; grandchildren Michael (Erin) Muckenhirn, Rachel (Chad) Mortenson, David (Antoinette) Muckenhirn, Travis (Cali) Salonek, Lindsay (Andrew) Hirsch, Brittany Salonek, Lexi Salonek, Codee Muckenhirn, and Benjamin Muckenhirn,; great-grandchildren Addie Muckenhirn, Andrew Muckenhirn, Blake Mortenson, Brody Mortenson, Kaeson Salonek, Kinley Salonek, and Grey Salonek; sisters-in-law Rita Otten, Jan Otten, and Jeanette Otten; as well as many nieces and nephews.
Mass of Christian Burial took place at 11 AM on Friday, August 6th at St. Maximilian Kolbe Catholic Church, St. Peter campus in Delano. Visitation was held on Thursday, August 5th from 4-8 PM, with a 3:30 Rosary service and continued Friday, 10-11 AM prior to the Mass, ALL at Martha's Hall on the St. Peter campus. Interment was in Calvary Cemetery in Delano. A luncheon was held after at Hanzel Hall at the St. Joseph Catholic Church in Delano.