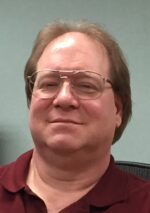 Scott Michael Oak, age 58, of Maple Lake, MN, passed away unexpectedly on Thursday, May 26, 2022. He was born February 19, 1964, to Michael and Sandra (Lysne) Oak in Fergus Falls, Minnesota.
Scott loved music and technology. He went to school in Minneapolis and in Moorhead, Minnesota. He graduated from Moorhead High School in 1982 and attended college at North Dakota State University in Fargo, ND, and Minnesota State Community and Technical College – Moorhead, MN.
After starting his career as a Computer Programmer and working in IT at several businesses, he started his own business, Oak Computer Services, Inc. He contracted with Data Sales Company in Burnsville, MN for over 22 years, and he loved his job.
He loved spending time at his lake home, working on his home and property, and everything lake living provides were important parts of his life, like boating and fishing. He collected music, autographed memorabilia, and he enjoyed working on, and driving, his classic cars with his father and brother. He also enjoyed his role as an uncle to his niece and nephews.
Scott was preceded in death by his grandparents Clifford and Hilda Oak and Louella and Norman Lysne, and his uncle Richard Lysne and aunt Janice Lysne, and his uncles Charles Oak and Davey Lysne. He is survived by his parents Mike and Sandy Oak, brother Mark (Betty) Oak, his sister Suzie Tipton, and niece Heather Hadler and nephews Tyler Tipton, Josh (Megan) Oak, Jacob Oak, and Nick Oak, as well as many aunts, uncles, and extended family members.
Honorary Bearers are Heather Hadler, Tyler Tipton, Josh Oak, Jacob Oak, and Nick Oak.
Memorial services wwere held on Thursday, June 2, 2022, at 4 p.m. at Iten Funeral Chapel in Delano, MN. Gathering of family and friends was held for 1 hour prior to the 4 p.m. service, at 3 p.m. on Thursday at Iten.
The memorial service was live-streamed on the Iten Funeral Home YouTube channel, through the link provided below: