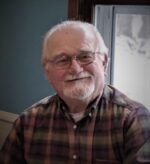 Thomas Patrick Petersen
December 4, 2021
Thomas Patrick Petersen, age 80 of Delano passed away December 4th, 2021, surrounded by his wife and family.
Tom was born March 7th, 1941, in Minneapolis to Carl and Marie (Mangan) Petersen. He grew up in Plymouth where he attended Wayzata Schools. He was drafted into the Air Force in 1962 and served stateside as a medic during the early years of the Vietnam War for 4 years at Griffiss AFB in Rome, New York.
During his military service, Tom returned to Minnesota to be in his brother's wedding where he met the love of his life, the bride's sister, Judith Tronrud. He quickly proposed to Judy 9 days later. They wed in Feb. 1965 and returned to New York to finish his 4 years of service. During that time, they welcomed their first son, Tad. They moved back to Minnesota in 1966 and welcomed their second son Shawn in 1969. Soon after Shawn's birth, they moved to Delano where they raised their family and remained into their retirement years.
Tom began working for Northwestern Bell in the mid 70's and was an accomplished low voltage technician throughout his career. Tom also learned many trades by working on his home and cabin that he passed down to his sons.
Tom was known as a "people person" and would chat with anyone, anywhere, at any time. He often entertained families by playing Santa at various events and in people's homes. Tom was also proud to become a 4th degree knight through the Knights of Columbus.
Tom, along with his wife Judy, always put family first and would do anything to support them. He would make sure the extra details were perfect on homemade gifts and projects.
Tom and Judy enjoyed many road trips together stopping at flea markets, thrift shops, and finding special little cafés. Together they enjoyed many nights of playing cards with family and friends. Tom also enjoyed car shows, fishing, and hunting with his brothers and sons.
Tom was preceded in death by his parents Carl and Marie Petersen; brothers Larry and Greg; sisters Carolyn and Mary.
Tom is survived by his wife of 56 years Judy; children Tad (Lisa) of Maple Lake, Shawn (Angie) of Buffalo; grandchildren Alissa (Steve) Schallock of Monticello, Colton Petersen of Shakopee, J.T. Petersen of Woodbury, Serena (Bryan) Strelow of Belle Plaine; great grandchildren Jackson and Henry Schallock; brothers Ray (Arlene), Father Vincent, Steve (Laura), Jeff (Pam), Kevin (Theresa) and sister Cecelia; and many Nieces and Nephews.
A Mass of Christian Burial took place on Friday, December 17th at 11am at St. Maximilian Kolbe, St. Peter Campus, in Delano. Visitation was held one hour prior in St. Martha Hall at the church. Interment with Military Honors in Elmwood Cemetery in Rockford.
The Mass will be live-streamed through the link provided below: