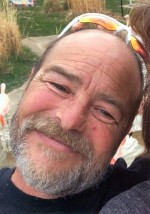 Scott Quittem age 53 of Canistota, South Dakota passed away on Friday, August 9, 2019. He was born June 8, 1966 to David and Sandy (Williams) Quittem in Sioux Falls, South Dakota.
Scott graduated from Lincoln High School in 1984. He went to work for Lawns Unlimited where he was a foreman.
Scott loved fishing, camping and Life.
He was preceded in death by his parents David and Sandy Quittem. He is survived by Ruby, Timmy, Molly, Jill and Chuck—beloved dogs; sisters Lesa (Bruce) Copenhaver, Christy (Joe) Newell; nephews Noah Horsman and Collin Newell; great niece Emelia Newell; and very special friends Tonya and Mike Hornback; and Jim Nyblom.
Memorial Celebration will take place on Sunday, August 25 from 1 to 4 p.m. at Lake Vermillian Recreation Area, 26140 451st Ave. Picnic Shelter 1-west campground, Canistota, South Dakota. In lieu of flowers, memorials preferred.