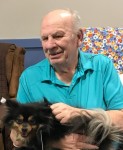 Frank O. Graunke
May 8, 2020
Frank O. Graunke, age 74 of Buffalo, formerly of St. Louis Park, Minnesota, passed away on Friday, May 8, 2020 at the Parkview Care Center in Buffalo. He was born on June 14, 1945 to George and Evelyn (Will) Graunke in Watertown, Minnesota.
Frank's greatest loves were gardening, fishing, camping and spending time with family.
Frank was preceded in death by his parents George and Evelyn; siblings Marlys Winsemann, Glen, Dale, Dennis, Barb, Judy and Ronald Graunke; brothers-in-law Leo Svoboda and Duane Poliwoda; nieces Bev Ehlers and Amanda Taylor. He is survived by his siblings Richard (Fran) Graunke, Pat (Larry) Snodgrass, Lois Svoboda, Leroy (Blythe) Graunke, Roger (Ginger) Graunke and Carol Poliwoda; sister-in-law Audrey Graunke; special niece Debbie Schmidt as well as many nieces, nephews, cousins and friends.
Memorial services will be held at a later date. Inurnment was in the Watertown Public Cemetery.