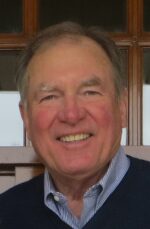 Robert W. "Bob" McCabe, Jr.
January 24, 2021
Robert William McCabe, Jr. "Bob", age 73 of Watertown, Minnesota passed away on Sunday, January 24, 2021 after a 3 year battle with pancreatic cancer on his ranch with family by his side.
Bob was born May 16, 1947 in Owatonna, MN to Robert Sr and Lee McCabe. He spent many years of his childhood growing up in Estherville and Le Mars, IA. Bob graduated from Hopkins High School in 1965, where he was known as a high scoring, "floppy haired" guard. Bob later went on to play basketball at the University of Minnesota. He also shared his father's love of baseball, playing many years including 2 years for the Watertown Red Devils.
Bob married his high school sweetheart, Ann Moore, in 1969. Because of a shared interest in horses, they bought land in Watertown, MN and there raised three boys, Michael, Ryan and Dan.
Bob was best known for his painting and decorating business where he took great pride in the finest of details for all of his customers. His son, Michael, joined him for 20+ years and later took on the family business.
Another passion of Bob's was raising Charolais cattle and Quarter Horses. Most summers were spent bailing hay and tending to his flowers.
Bob took pride in serving his country in the Army National Reserve, as a medic, for 6 years. He also served on the MN and National Charolais boards, as well as the MN Beef Council.
Bob's greatest joy was being a "Papa" to his five grandchildren. He loved taking them on hiking "adventures" at the cabin and later enjoyed attending all of their sporting events and activities. Papa was their #1 fan and always insisted on good manners and instilled in them the importance of a strong work ethic.
Bob was preceded in death by parents Robert Sr. and Lee McCabe (Huttle). Survived by wife of 52 years Ann M. (Moore); sons Michael, Ryan (Sue), Dan (Lisa); 5 grandchildren Patrick, Tommy, Wyatt, Maggie, Grace; sisters Judy (Craig) Freeman, Nancy McCabe; sisters-in-law Kathy (Allen) Agustsson, Elizabeth (Mark) LaVigne; brother-in-law Tom Moore.
Bob will be dearly missed but we know he is onto his last "Great Adventure!"
Private Memorial Mass of Christian Burial took place at 11 AM on Saturday, January 30, 2021 at Immaculate Conception Catholic Church, Watertown. Public gathering of family and friends was on Saturday, 9-11 AM prior to the Mass at church. In lieu of flowers, memorials were preferred.
A video of Bob's service is available via the ICC Church Facebook page at https://www.facebook.com/ICCWatertown