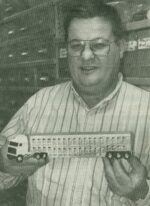 Stanford "Stan" Douglas Krueger
March 22, 2021
Stanford "Stan" Douglas Krueger, age 78 of Somerset, WI passed on March 22, 2021. Owner of Standi Toys. Born November 30, 1942 in Wayzata, MN. Survived by children Tanya Krueger, Scott Krueger; stepchildren Donald Jeszewski, Mark Jeszewski; numerous step grandchildren; sister Darlene; brothers Edward "Norm", Donald (Judy); many nieces and nephews. Preceded in death by wife Sandra; infant son Eric; parents Ed & Eleanor; brother Mike; nephew Steve.
Stan grew up in Delano, MN and was proud of his hometown. After graduation, he enrolled in the Army, where he spent time in Korea and Key West, FL. His time spent in the military provided him with the opportunity to attend and graduate with a degree in Business Administration and Accounting from the University of MN, subsequently earning his CPA. During his senior year at the University of MN, Stan served as President of the Business Board in the business school (now called Carlson School of Business). He played college Rugby.
Stan was hired by national CPA firm Ernst and Ernst right out of college and passed his CPA exam first try after studying while watching football games. He went on to become a Treasurer of a commercial real estate company in Minneapolis, eventually working for Gopher Electronics.
He married Cheryl Pederson on June 29, 1968, and they built their first home in Coon Rapids, MN in 1970. Soon after, daughter Tanya was born and 18 months later, son Scott. Stan was active in the community and a member of the Coon Rapids Jaycees. He was a Charter Board Member of RISE, which provided jobs for the disabled.
Stan moved to Golden Valley, MN in 1975, and later to Maple Grove where he met Sandra (Sandi) Weberg. They were married December 26, 1981, and Stan gained two step-children, Donald and Mark. They relocated to Vadnais Heights, MN.
From the time he was small, he loved farm toys. In the 70's, Stan started collecting toys at flea markets and in the late 70's, developed his first product, replacement fenders for tractors. In 1980, Stan started "toying" with the idea of starting a business, and by 1981 Standi Toys was born. It started by visiting every small toy show he could. These were held in the five state region mostly and were held most weekends. The toys would be packed into a small trailer Friday night after work, followed by a long drive to a small town for a show. He was particularly proud of his annual Toy Show, which was held the last weekend in November for several years in the early 80's at the Delano American Legion. In 1987, Stan decided to take the dream full time and "Standi Toys" accelerated. The first shop was in Ham Lake, soon moving to Hugo, MN. In 1993, Stan and Sandi purchased a building for the business and a new home in Somerset, WI.
Stan loved the Toy Farming business and was most at home chatting with his customers. His time was spent at the National Farm Machinery Show, WI Farm Technology Days, World Dairy Expo, and more. He particularly loved his time spent at the MN State Fair where Standi Toys had a building. Stan was a 2006 inductee into the National Farm Toy Museum Hall of Fame in Dyersville, IA.
His hobbies included playing cards (he loved a good game of Euchre), the annual fishing trip with family, softball, farming, watching sports, and reading the paper. He enjoyed driving beautiful cars and was proud of his Ford Fairlane and Porsche. Stan loved to laugh and tell bad jokes.
Stan was a numbers wiz and could complete all math problems in his head. He enjoyed reading tax laws and preparing taxes, and he really enjoyed the last-minute rush to mail them by midnight on April 15. Stan had a photographic memory. He will be missed by many family, friends, and business partners.
Memorial Service 11 AM, Saturday, April 17, 2021 at Iten Funeral Chapel, Delano, MN. Gathering of family and friends Saturday, 10-11 AM prior to service. Memorials preferred to American Cancer Society, Alzheimers Association or Mt. Olive Lutheran Church, Delano.
The service will be streamed on the Iten Funeral Home YouTube page, through the link provided below:

Note: Live-streaming*
In order to mobile live-stream the Mass, Youtube requires we maintain 1,000+ subscribers. In order to ensure we can continue to provide mobile live-streaming services to families, we ask that you please subscribe to our Iten Funeral Home Youtube page.
https://www.youtube.com/channel/UCcYxByHG3qDWGb78BJkdJBg