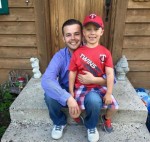 Aaron Luebke
July 19, 2017
Aaron Michael Luebke, age 31 of Delano, gained his wings on July 19, 2017 in a tragic accident. He was born January 22, 1986 to Dale and Lori Luebke in Waconia, MN. Aaron was loved by many family and friends, and loved his son Aiden more than the world. He was known for his bright smile and huge heart. He could be found talking sport stats, music, and history.
Aaron's home team includes: Parents, Dale and Lori Luebke; Son, Aiden Luebke (Steph and Scott Pobuda); Sister, Stephanie (Eric Johnson); Nephew, Carter Walters (Jordan Walters); Grandparents, Joanne and Milt (dec.) Luebke, Donna and Don (dec.) Christensen, Uncles; Mick Luebke, Todd Christensen, Terry Christensen; Aunt, Lu Christensen (John); Cousins, Paige and Tori Luebke, Kelli, Kyle, Katelyn, Kourtney, Blake, and Terry Lee Christensen; as well as many friends, extended family, and loved ones.
A celebration of Aaron's life was held on Sunday, July 23, 2017 at the Medina Ballroom, upper level at 3 p.m.  Gathering of family and friends was  one hour prior to the services from 2 to 3 p.m.
Medina Ballroom address is 500 State Hwy 55, Hamel, MN 55340
In lieu of flowers, memorials can be made to the Aaron Luebke Memorial Fund at the State Bank of Delano, 1300 Babcock Blvd Delano, MN 55328.