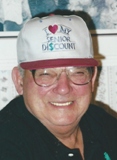 Alfred Braegelmann
April 5, 2018
Alfred L. "Fritz" Braegelmann, age 86 of Delano, Minnesota went to be with his Lord and Savior on Thursday, April 5, 2018. He was born on December 10, 1931 in Richmond, Minnesota to John and Eleanor (Ludivig) Braegelmann.
Fritz was a loving husband, dad, grandfather and great grandfather. He was an active member of St. Peter Catholic Church. Fritz enjoyed listening and dancing to Old Time music. He loved the Twins, playing cribbage and the chuckling patrol.
Fritz was preceded in death by his wife of 63 years Viola and his son Jerry. He is survived by his children Judy (Mike) White, Joan (Marty) Nimerfroh, Jim (Mary Jo) Braegelmann, John (Renee) Braegelmann, Jay (Clari) Braegelmann, Joe (Vicki) Braegelmann and Janice (Jeff) Schweiss; 19 grandchildren Jamie (Paul) McCullough, Jodi White, Justin Mielke, Hana Nimerfroh, Erin (Nick) Czech, Kerri (Nathan) Metz, Jordan (Abby) Braegelmann, Krista Braegelmann (Luke Molus), Jessica (Paul) Muckenhirn, Jacqueline Braegelmann, Jake Braegelmann, Mandi (Jeff) Brown, Alex (Brian) Juhnke, Abbi (Mitch) Kelzer, Jesse Braegelmann (fiancée Ashley Stender), Jacob Schweiss (Noelle Nuss), Jack Schweiss, Josh Schweiss and Jared Schweiss; 14 great grandchildren Madelyn Czech, Claire Czech, Lily Czech, Ayden Metz, Colynn Matti, Lucy Matti, Natalie McCullough, Everett Brown, Ella Brown, Emmitt Brown, William Ferguson, Gretchen Juhnke, Hayden Juhnke and Rigley Muchenhirn; siblings Theresa Friedrich, Julitta "Letty" Bromenshenkel and Gerhard "Hardy" Braegelmann.
Mass of Christian Burial was held at 11 AM on Tuesday, April 10, 2018, at St. Peter Catholic Church in Delano, Minnesota. Visitation was on Monday, April 9, 2018 from 4-8 pm with 3:30 PM Rosary and 7:30 PM Prayer service and continued Tuesday, 10-11 am prior to Mass, ALL at Martha's Hall of St. Peter Catholic Church. Inurnment was in Calvary Cemetery in Delano, Minnesota.