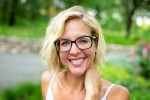 Amanda Jo Larson
August 9th, 2020
Amanda Jo Larson, age 36 of Delano passed away at her home on Sunday, August 9th after a short but courageous battle with ovarian cancer. She was surrounded by so many people who love her. Amanda was born on November 13, 1983 in St. Louis Park to Gary and Kim (Ehrens) Larson.
Amanda was Supermom to her boys and they were her life. She and her three boys loved adventures and exploring the world together. Amanda had a passion for meeting and connecting with people. During her career as a cosmetologist, Amanda formed lasting bonds with many of the people she worked with. Amanda was many things – altruistic, independent, strong willed and loving but she was also known for being gracious, helpful, and generous by always making time for others. She was a bright star in the lives of so many people, and she will be missed so much. Amanda was an active volunteer in the Scouts community, church family, Delano Public Schools, and Love Inc (volunteer and staff).
Amanda was preceded in death by her grandfathers Robert Ehrens and Roger Larson. She is survived by her three sons Mason, Logan, Bennett; parents Gary and Kim Larson; brothers Matthew Larson and Michael (Cheryl) Larson; nephews Oliver and Wyatt Larson; grandmothers Sharon Ehrens and Annette Larson; uncle and aunt Rob and Christy Miller; cousins Jessica Miller (daughter Jalynn), Jennifer Miller, and Jodi Miller; and countless friends.
Due to COVID-19, there was a private family service to celebrate Amanda's life. In lieu of flowers, please send donations to the Iten Funeral Home of Delano. Amanda's family will donate the funds to the Angel Foundation and a few organizations that Amanda held close to her heart.
The service was recorded, and can be found on the Iten Funeral Home YouTube page, or through the link below: