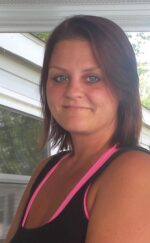 Angela Thorndike
January 3, 2023
"Butterflies are the heaven sent kisses from Angels" -unknown
Like a beautiful butterfly dancing in the summer sun, her soul was as sweet and gentle. What made her so special to many? Was it her fabulous messy mommy buns she wore in her hair or perhaps the way she wiggled her nose like a bunny? She made the cutest monkey face perfected by her dimples and had the sweetest, brightest smile. There was a sparkle to her big blue eyes and a gentleness to her words. Grace was stern when you needed it and soft at the same time. She would give you a hug or a little squeeze of your arm as she'd tell you, "You're beautiful." She had a way of making you feel like you meant the world to her, and you did. She was a goofball, wore crazy hats, fancy pants, and if you were lucky, she gave you a nickname. You wouldn't dare leave without a hug and an "I love you!" with the sweetest tone of a "Goodbye."
She was only slightly mischievous in the most innocent of ways and by far earned the family prize for the "biggest baby hoarder!" She was a romantic and a writer of sorts. She had notebooks upon notebooks in her closet with scriptures, prayers, studies of nutrition, and personal thoughts. Grace cherished her loved ones, treasured moments, and slowed down to embrace life.
Angela Grace Thorndike
Angela Grace (Holm) Thorndike, "Grace," age 41 of Buffalo Minnesota passed peacefully on Tuesday, January 3rd, 2023 into the arms of Jesus. She was born on October 21st, 1981 in Waconia, Minnesota. She is survived by her husband of 18 years, Glen Thorndike; children Shyanne and her husband Branden Laney and grandson Jameson, Tristan, and Jeremiah Thorndike; mother Janie Arlene (Holm) Stroud; father Daniel Roy Holm; sisters Holly Anne Dylla, Nichole Elizabeth Rose Holm; Sister (s) in law Lori Thorndike and Susan Creek; Brother in law James Thorndike; nieces and nephews Ashley and Chris Creek, Madison, Caleb, and Lilyana Dylla; Logan and Dylan Brown; Erin Auther, Ken, Tony & Samantha Thorndike; as well as many aunts, uncles, cousins, and friends. Godmother Dawn Brown. Preceded in death by her grandparents Gayle Harold and Judith Arlene Stroud, Delbert and Bernice Holm, Grandmother Reba Holm, Uncle Donald Holm, and Aunt Tia Stroud. Mother & father in law, James & Maxine (Larmer) Thorndike
Angela graduated from Maple Lake High School in 2000 and took a job at Tolomatic in Medina, MN. During that time, she met the love of her life, Glen Thorndike. They were married on September 4th, 2004. As her family grew, Grace decided to stay at home to care for her little ones.
Angie was a loving wife, mother, grandmother, daughter, sister, aunt, and friend to many. She loved to spend time with her family, especially her new grandson Jameson. Angie enjoyed coloring, going up North with her family, fishing and hunting for agates. Grace touched the hearts of many and truly cherished every person she knew. She knew how to slow down, take her time, and appreciate each moment, each person, and each day. She is deeply missed by all who knew her.
Funeral services were held on Thursday, January 12th at 6 p.m. at the Buffalo Community Assembly of God Church in Buffalo, Minnesota. Visitation was held in the church on Thursday from 4:30 to 6 p.m. prior to the services. The private family interment was in the Maple Lake Community Cemetery.