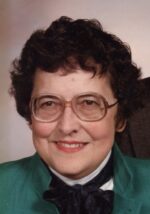 Anna A. Lundsten
October 31st, 2022
Anna Agnes Lundsten (Bauman), age 95, passed away at the Legacy of Delano Memory Care Facility on October 31, 2022.
Ann was born April 2, 1927 to George and Theresa (Muckenhirn) Bauman in Delano, MN. She attended St. Peter's Catholic School and Delano High School where she met her husband and partner in life Jim. Upon graduating high school in 1945, Ann continued her education at the Minneapolis School of Business. In 1949, Ann and Jim were united in marriage at St Peter's Catholic Church in Delano and together they ran the family business, Lundsten Lumber Co., until they sold it and retired in 1988. Jim and Ann were truly partners in the company with Ann doing the bookkeeping and Jim as the General Manager.
Ann was very active in both the Delano community and the Church of St. Maximilian Kolbe. She was a member of the American Legion Auxiliary and the Delano Women's Club. She and Jim were involved in many town projects and in 1997 they were honored as Delano Citizens of the Year. Ann also served on many church committees and sang in the choir until her health no longer allowed it.
In later years, Ann and Jim were snowbirds and spent their winters in Texas and Arizona until Jim's death in 2009. Ann loved her family and enjoyed spending time with friends. She was devoted to her Catholic faith and lived her life accordingly. Ann was friendly to everyone and always had a smile on her face.
Ann was preceded in death by her parents; her husband of 59 years, Jim; her brothers Bill, Francis, and Ralph; sisters Mary Boisvert, Georgia (Dot) Berchtold, Lucille (Pity) Ronan, and Rose (Infant); brothers-in-law, Art Boisvert, Lowell Berchtold, Dick Merriman, Don Fritz, and Dennis Wetter; sisters-in-law, Ruth Bauman, Dorothy Bauman, Patricia Fritz, Mary Alice Wetter.
She is survived by her sons William, Michael (Kathy) and Thomas (Elizabeth); sisters, Barb Merriman and Edith Moran; brother-in-law James Ronan: and numerous nephews, nieces, and cousins.
A Mass of Christian Burial took place on Wednesday, November 9, 2022 at 11:00 AM at St Maximilian Catholic Church, 235 S 2nd St., Delano MN. Interment followed at Calvary Cemetery. Visitation took place one hour prior to the service.
In lieu of flowers, send any donations to St. Maximilian School of Delano or to the Alzheimer's Association.