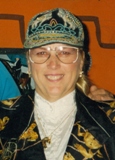 Arlene M. Berzins
December 3, 2017
Berzins (Harwood), Arlene Marie, 78, of Delano, MN passed away passed away peacefully on December 3, 2017.
Arlene was born in Spring Valley, MN but spent her childhood years in St. Paul and Richfield. She settled in Delano, MN with her husband Charles and established their farm as Summit Stable. Arlene's passion and love of horses led to a life filled with showing Morgan horses and helping others to become proficient at riding and showing. It was important to her to promote and support the horse community. She served as a member on several committees, to name a few are Trail Dusters of Bloomington, Tri State Horsemen's Association, and North Central Morgan Association. One of her all-time favorite horse shows was the MN State Fair. Arlene loved the crowds, the food, and the energy. The atmosphere, she said, was the best training tool for patience. Arlene's door was always open to all, always there to listen, give advice and be supportive. She loved her family, friends, horses, and dogs and lived her life doing what she loved.
Arlene will be deeply missed by husband Charles; sons Stephen Berzins and Ron and Janet Berzins; gandchildren Sarah and Jeremy Mikkelson, Michael Berzins, Daniel and Kristin Berzins, and Suzie Berzins; great grandchildren Jordan, Hailey, Ryan, Karly, Claire, and Wyatt; Nephew Daniel and Stacy Harwood.
She was preceded in death by father and mother Elmo and Edith Harwood; brothers Leon and Betty Harwood, Ron Harwood, and Jim Harwood; and grandson Scott Berzins.
The family would like to invite everyone to a Celebration of Life at Island View Golf Club at 7795 County Road 30 Waconia MN 55387 from 4 to 7 pm on February 10th, 2018.
In Lieu of flowers, memorials are preferred to donate.cancer.org