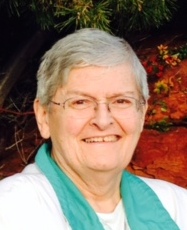 Arlys Mae (Paul) Kulberg age 76, of Delano, previously of Hector, MN died on Friday, April 3, 2015 in the loving home of her son and daughter-in-law. Arlys held various occupations with daycare being her favorite. In addition to her family and friends, Arlys loved flowers, birds, crafts and talked often of her special time after graduation living with dear friends. Arlys' most precious love was her grand and great-grandchildren. Arlys was seen with friends having breakfast and coffee at Edie Mae's Eatery and often dinner at Dave's Town Club. She was a positive, loving soul who will be missed by many.
Preceded in death by her husband Vern L, brothers Eugene, Allyn; sister Oradel Kulberg Schultz.
Survived by her son Ken, daughter-in-law Lorri, grandchildren Jesse (Jenna), Scott, Melissa; great-grandchildren Connor, Karly; brother Loren (Luella), sisters Sharon (Ray) Skroch, LouAnn (Ed) Walker; many nieces, nephews and cousins.
Visitation was held on Tuesday, April 7, 2015 from 5 to 7 p.m. at the Iten Funeral Home in Delano, Minnesota. Funeral Services were held on Wednesday, April 8, 2015 at 10 a.m. at Light of Christ Lutheran Church in Delano, Minnesota. Continuing Visitation was in the church on Wednesday from 9 to 10 a.m. prior to the services. Visitation occured from 2:30-3:30 p.m. at the Swedlanda Lutheran Church with Interment in the Swedlanda Lutheran Cemetery in Hector, Minnesota at 3:30 p.m. on Wednesday.
Memorials preferred. Special thank you to Guardian Angels Hospice Home Care of Elk River.