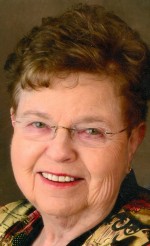 Beatrice M. Hausladen
10/7/19
Beatrice Marie Hausladen, Age 77 of Waverly, passed away on Saturday, October 5th, 2019. She was born on June 17th, 1942 to Charles and Helen (Murphy) Goodridge in Hollywood Township, Minnesota.
Beatie loved her family and grandchildren. She loved to work in her garden on the flowers, cook amazing meals, to sing and to dance, shopping the garage sales and everything to do with Waverly. She was an active Waverly Booster, whether for her church, fire department or anyone that asked for help, Beatie showed her huge heart and was always willing to help throughout her life. She worked for a period of time as a switchboard operator in the Watertown telephone company. She was a homemaker and later in life, she was a cashier at the Buffalo Walmart.
Beatie was preceded in death by her parents Charles and Helen Goodridge; sister Mary Ann Dressen and an infant brother Benjamin; parents in law Joseph and Hildegard Hausladen. She is survived by her husband Kenneth of 60 years; children Ken (Debby) Hausladen, Deb (Walt) Lofquist, Denise (David) Fournier, Kevin Hausladen, Charles Hausladen, Mary (Gary) Millerbernd, Donald (Alycia) Hausladen, Joseph (Dana) Hausladen, Jeff (Cheri) Hausladen, Jessie (Rodney) Motzko, Greg (Laura) Hausladen, Andy (Tracy) Hausladen, Angela (Jake) Karels; 36 grandchildren, 15 great grandchildren and 3 on the way; as well as many nieces, nephews, cousins and friends.
Mass of Christian Burial took place at 11 a.m. on Monday, October 7, 2019 at the Church of St. Mary in Waverly, Minnesota. Visitation took place from 9:45 to 10:45 on Monday in the St. Mary's Parish Center prior to the Mass. Interment was in the church cemetery.