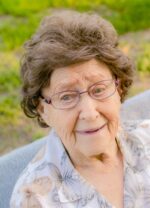 Bernice Schlosser (Doboszenski)
August 22, 2022
Bernice Anna Schlosser (Doboszenski), age 93 of Loretto passed away peacefully at home on Monday, August 22, 2022, with her family by her side. Bernice was born July 10, 1929, to parents Vincent and Rose (Marx) Doboszenski. She was the first of 11 children. She married Leonard "Junior" Schlosser on November 28, 1951, and they moved into the home where she lived for 71 years.
Bernice was an avid reader who loved gardening, playing cards, spending time with family and friends, fishing and just enjoying a campfire. She was a member of Ss Peter and Paul for most of her life. Over the years, she helped with funerals, Sharing and Caring hands, and school functions and received the Volunteer of the Year Award from Catholic Aid (now Catholic United Financial) in 2000. She also cared for her parents and in-laws as they aged. She worked at part-time jobs at a flower store in Navarre and as a cook at Camp Ihduhapi. She did this all while raising 13 children. She was always welcoming to anyone and everyone who visited – nieces, nephews, and friends of the children. Her favorite beer was "cold beer" and her favorite cereal was moldy hay bales a/k/a Frosted Mini Wheats. She was a master of the one-liner and kept us all laughing.
Bernice was preceded in death by parents, Vincent and Rose, husband Leonard "Junior", son Myron, grandson Jared Schlosser, siblings Kathleen Peterson, Delrose Kilthau, Ronald and Richard, sisters-in-law Arlene and Phyllis, brother-in-law Richard Peterson, and nephews Jeff and Christopher Doboszenski. Survived by sons Duane (Karen), Joe, Jerome (Rita), Vernon (Cheryl), Dale, Lee (Paula), Tom; daughters Bernadette (John) Grenzer, Jean Schlosser and Ernie Mayers, Julie (Mike) Windsperger, Donna (Jim) Russell, Betty (Mark) Oak; 25 grandchildren, 26 great grandchildren and two on the way; siblings Leander (Lucy), Gerald (Eldoris), James, Kenneth, Marvin (Marlene), Anthony (Margaret), sister-in-law Marlis Doboszenski; and daughter-in-law Ellen LeRoy. Also survived by many, many nieces and nephews. A special thank you is due to the Ridgeview Hospice care team and caregiver Colleen Dzurik for the excellent care they provided. Also, thank you to a special nephew and niece who came many times for daily rosary. She always looked forward to seeing them.
Mass of Christian Burial was held on Saturday, August 27, 2022, at 11 a.m. at Ss Peter and Paul Catholic Church in Loretto, MN. Visitation was from 4 to 8 p.m. Friday in the church parish center and continued 10 to 11 a.m. Saturday in the church prior to Mass. Interment was in the church cemetery.