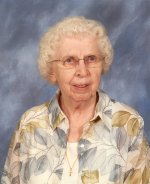 Bernice M. Kalinowski
Dec. 25, 2009
Bernice M. Kalinowski age 84 of Watertown died on Friday, Dec. 25, 2009. She was born February 3, 1925 to Baultis and Eleanor (Schoen) Ackerman in Watkins, Minnesota.
Bernice was a loving mother, grandmother, and great grandmother. She was preceded in death by her husband Stanley; siblings Baultis "Swede" Ackerman, Laura Schloeder, and Barbara "Bobby" Sikkila.
Bernice is survived by her children and their spouses: Lana and Frank DeMars, Steve and Sandra Kalinowski, Bob and Victoria Kalinowski, Debbie and Daniel Theis, John and Lori Kalinowski, Bill and Susan Kalinowski, Jim and Renee Kalinowski; 18 grandchildren, 23 great grandchildren; siblings and spouses Janice "Blondie" and Claude Mohs, Dorothy and Bud Adolph, Michael and Mary Ackerman.
Visitation 4 to 8 p.m. Tuesday at the Iten Funeral Home in Delano with a 7:30 p.m. prayer service. Visitation continue 10 to 11 a.m. at the church on Wednesday. Mass of Christian Burial 11 a.m. at St. Mary of Czestochowa Catholic Church in rural Delano. Rev. Thomas Balluff officiating at the Mass with interment in the church cemetery