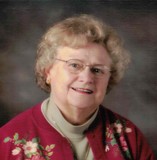 Bernice Kittock
December 25, 2019
Bernice M. "Bernie" Kittock age 87 of Delano passed away on Christmas Day. She never married yet had a very extensive circle of family and friends. She graduated from Delano High School in 1951 and attended almost all the reunions. Bernice retired from Prudential Insurance group after 35 ½ years.
Bernice was an avid sports fan – she loved the Gophers, Twins, Vikings. Her volunteer spirit touched many different groups: Delano American Legion Auxiliary-also serving as 10th District President; GFWC; Relay for Life; Volunteer driver for seniors; Ridgeview Medical Center in women's imaging and giving tours to groups of school children. Delano Queen Coronation committee and chaperone, Boys and Girls State for Delano and Rockford Schools, The Parish of St. Maximillian Parish, participant and many times coordinator of several bowling leagues and many more.
Wright County and the MN State Fair awarded her Outstanding Senior Citizen of the year in 2015. Minneapolis Aquatennial Honorary Commodore distinction was given in 2001.
Preceded in death by her parents Vincent and Sophie Kittock, brother Leonard Kittock, sister-in-law Gwen Kittock. Survived by many first cousins and their families
Mass of Christian Burial was held on Tuesday, December 31 at noon at St. Joseph Catholic Church in Delano. Visitation took place on Monday from 4 to 8 p.m. with a 4 p.m. rosary, 7:30 p.m.sharing time and 8 p.m. prayer service at the Iten Funeral Home in Delano, MN. Visitation continued 11 a.m. to 12 p.m. on Tuesday at the church prior to Mass. Interment was in St. Joseph Cemetery, Delano, Minnesota.