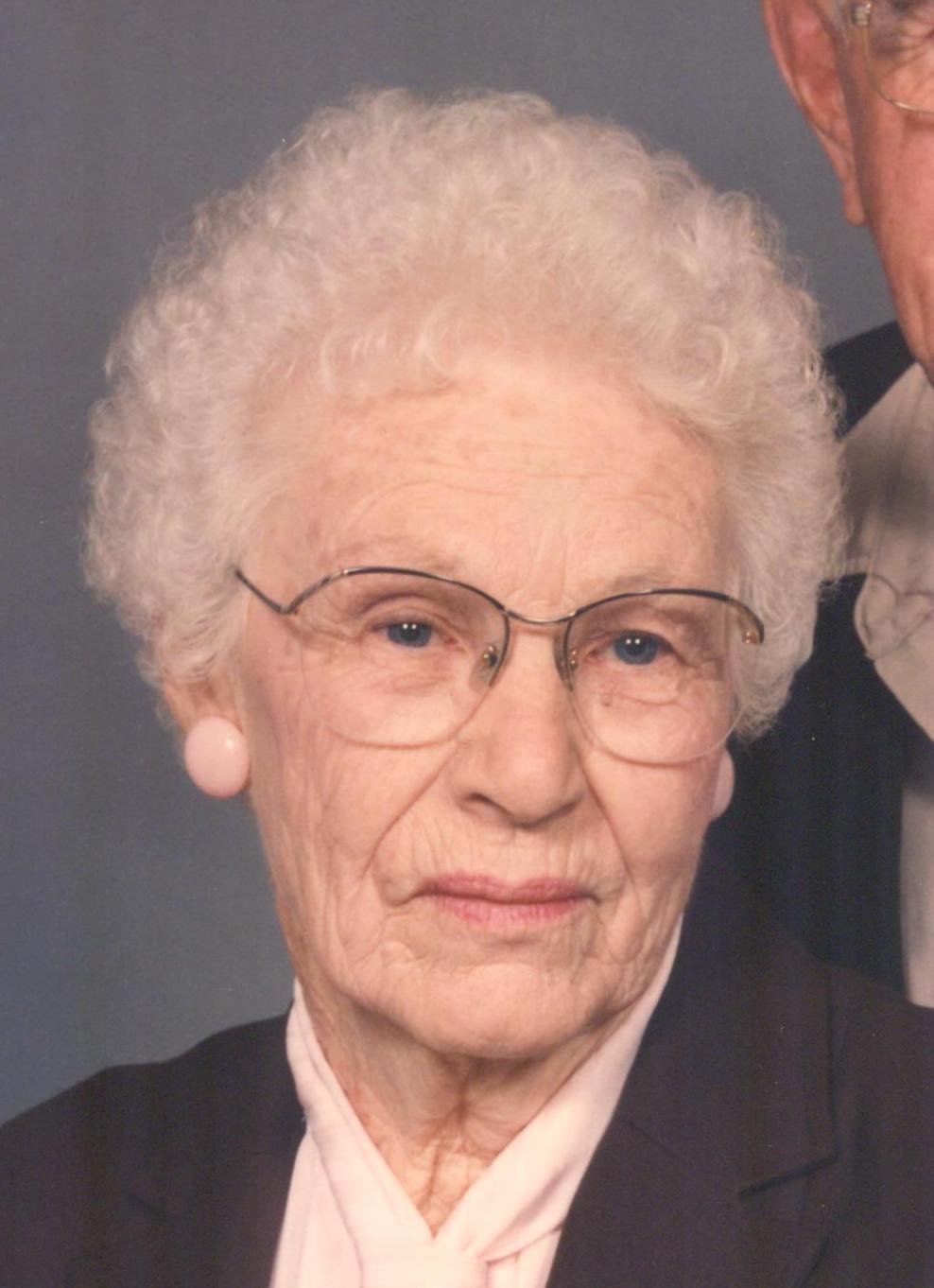 Bernita (Bert) Genevieve Cebulla passed away at her residence, Westwood Assisted Living in Watertown, on August 2, 2014 at age 98 years and 5 days. Bert was born to John and Mary Hilbert in Minneapolis; but because of her parents' ill health, she was raised by her aunt and uncle, Art and Catherine Lattimer. In her young years she lived in South Dakota, later the family moved to Watertown, where she graduated from high school and met Tom Cebulla.
Bernita and Tom were married October 25,1939, at the church of the Immaculate Conception in Watertown. They lived and farmed in the Montrose area for 70 years. Together they raised two sons, Jim and Tom, and also provided homes to numerous nieces and nephews, as well as Bert's father, Uncle Art. When Tom passed away in 2007, Bert stayed on the farm for a year and then moved into Westwood Assisted Living in October of 2008.
Bernita was a faithful wife, mother, grandmother and friend. She was a typical farm wife helping out in the barns and field, keeping a huge garden and preserving food for the family. She was well-known as a wonderful cook; she worked in many of the local cafes and was a favorite hostess for the threshing crews. Her freezer and pantry were always full of many great homemade treats (and if you were smart – you scheduled your visit for Monday, which was the day she made fresh donuts). Anyone stopping by at meal or coffee time was invited to share the ""scraps"" with them.
Bert liked to be busy and remain active. She was a faithful member of St. Mary"s of Czestochowa for 70 years, serving her parish in many roles, as well as serving on the local schools board, charity organizations and 4-H. Once they sold their dairy cows she & Tom were able to do some traveling across the US, spend more time fishing, playing cards and just enjoying their friends and family.
Bernita is survived by sons Jim (Eldora) and Tom (Cheri), 8 grandchildren, 15 great-grandchildren. She was preceded in death by her husband, parents, in-laws, 7 siblings. Her good sense of humor and warm hospitality will be missed by many.
Mass of Christian Burial was Saturday, August 9, 2014 at 11 a.m. at St. Mary of Czestochowa Catholic Church, Delano. Visitation was Saturday, one hour prior to Mass at the church. Interment was in the church cemetery.