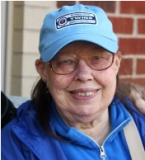 Beth M. Tennessen
July 25, 2017
Beth M. Tennessen, age 67 of Wayzata, went to heaven with our Lord and Savior on July 25, 2017. Preceded in death by parents Paul and Mary Ann (Borgert) Tennessen; brother Alan Tennessen. Survived by sister Janet (Norm) Schuenke; sister-in-law Barb Tennessen.
Memorial Service Friday, July 28, 2017, 4:30 p.m. Hammer Residences, 1909 E. Wayzata Blvd., Wayzata 55391.
In lieu of flowers, donations are preferred to Hammer Residences.