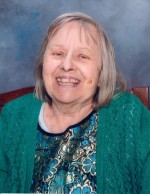 Nieman, Bonita "Bonnie" K, age 76, of Delano, passed away on June 25, 2019 after a battle with Alzheimer's. She was born in Watertown on October 21, 1942 to Alfred "Dutch" and Ethel Matter.
Bonnie was preceded in death by brother Donald. She is survived by son Kevin, daughter Kimberly, husband George and brother Thomas.
Bonnie, as a lifetime resident of Delano, had a love of animals and nature; she had a fondness for sweets and black tea. Bonnie took great pride and joy in her job as a certified nursing assistant at Buffalo hospital.
Thank you to the Garden House in Winsted for the care they gave Bonnie. Thank you also to her friends and relatives for their compassion during the course of her disease and the visits/cards.
Visitation was Saturday, June 29th 4-8pm at Iten Funeral Home in Delano. Inurnment was in Calvary Cemetery in Delano.