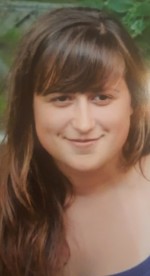 Brooke L. Olson
December 18th, 2019
Brooke Lauren Olson, age 30, of Delano, Minnesota, went to be with our Lord on Wednesday, December 18, 2019.
Brooke was born on June 22, 1989 in Waconia, Minnesota, beloved daughter to Julie Morrow and Scott Olson. Brooke was a loving and creative soul, who was always ready for anything and happiest when she was with friends, listening to music, creating art and spending time with her cat, Oliver. She had the most beautiful spirit that could light up your soul.
Brooke graduated from Delano high school in 2007. After graduating high school, she went on to study at the University of Minnesota where she majored in Sociology and Spanish graduating in 2018. While attending college, Brooke had the opportunity to study at the University of Hawaii where she spent her free time enjoying the ocean and surfing. Upon graduation, Brooke was passionate about her art business, Sacred Stone.
What Brooke wanted more than anything else was for people to feel loved, accepted, and empowered and for this world to be a place of love and kindness. Brooke will always be remembered for her courage and strength through difficult times and though her life ended too soon, we know that she is at rest and without pain now.
Brooke is survived and sorely missed by: her mother, Julie (Terry) Morrow of Buffalo; her father, Scott (Denise) Olson of Waverly; brothers, Mitch (Lisa) Olson of Waconia; Matt (Jenny) Olson of Maple Grove; Nieces and nephew: Anna Olson, Audrie Olson, Ian Olson, Kenna Olson; Grandparents, Carol Brausen of Buffalo, Gary and Bethel Olson of Waverly, Donna Schnell of Delano, along with many other close relatives.
She is preceded in death by her great grandparents; Lillian and George Olson, Jenny and Helmer Krugerud, Florence and Ervin Cardinal, Emma and Albert Graunke, Marcy and Larrry Brausen; Grandpa Garry Brausen and Aunt Jenna LeLoup.
A funeral Mass of Christian Burial was held Thursday, January 2, 2020 at 11:00 AM, with visitation 9:00 AM to 11:00 AM, at St. Francis Xavier Catholic Church in Buffalo.
"We may not have it all together, but together we can have it all."
– Wookiefoot