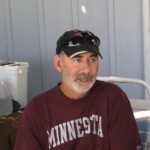 Burnard J. Kittock
May 23, 2023
Burnard Joseph Kittock, "Burnie" age 59 of Delano passed away after a courageous battle with cancer at home with his family by his side on Tuesday, May 23, 2023. He was born September 18, 1963, to Jerome and Elizabeth (Hausladen) Kittock in Buffalo, Minnesota.
Burnie grew up in Delano and graduated from Delano High School in 1982. He made his career working in the lumber industry and retired at the time of his illness. Burnie met and married Jacquelyn Botzet and recently celebrated their 37th wedding anniversary.
Burnie loved to spend time with his family and friends. He enjoyed the outdoors, especially fishing. Trips to the cabin were all about family and were to be looked forward to.
Burnie was preceded in death by his parents Jerome and Elizabeth Kittock; sister Nancy Loebertmann, brother Gary Kittock; and father-in-law Harvey Botzet. He is survived by his wife Jackie; sons Elliot, Oliver, and Theodore; siblings Terrance (Cheryl Fisher) Kittock, Bonnie (Dave) Graham, Sandy (George) Motzko, Mary (Tom) Lenz, Donna (Wayne) Gabrelcik, , Jeff (Kim) Kittock; mother-in-law Pat Botzet; brothers-in-law Kenny Loebertmann, Joe (Audry) Botzet, Rick (Val) Botzet; sisters-in-law Cindy (Tim) Healy, and Becky (Shane Johnson) Botzet; as well as many other extended family.
Gathering of Family and Friends was held on Tuesday, May 30th, 2023, from 5 to 8 p.m. at the Iten Funeral Chapel in Delano, Minnesota.