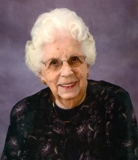 Carmen M. Benson
January 17, 2017
Carmen Maxine Benson, age 99 of Delano, passed away Tuesday, January 17, 2017 at the Delano Golden Living Center. She was born on October 7, 1917 in Austin, Minnesota to Alfred and Anna (Rossow) Ruland.
Carmen was a past long-time employee of Cargill. She was a world traveler; visiting most of the continents. Carmen was a very social, positive person. She was active at the Delano Senior Center and then the Golden Living Center. She was a good role model for those she came in contact with.
Carmen was preceded in death by her parents, son Robert; grandson John Heyen; sisters Helen Ruland and Ruth (Norman) Rasmussen.
She is survived by her children Carol Heyen, Al (Pat) Benson, Brenda Martens and Charles Benson; grandchildren Barbara Heyen, Kathy Rasmussen, Steven (Aimee) Martens; great grandchildren Josh and Jacinda Warnemunde, Anton and Cassie Smith, Colin, Carley and Christian Martens.
Memorial services was held at 11 a.m. Saturday, January 28, 2017 at Light of Christ Lutheran Church, 3976 County Line Rd, Delano. Gathering of family and friends was held from 10-11 a.m. on Saturday prior to the service at the church.