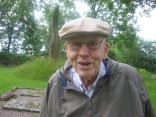 Carroll (John) Lundeen
April 8, 2016
Carroll John Lundeen, age 99, passed away on Friday, April 8, 2016. He was born on January 22, 1917 in Minneapolis, Minnesota to Carl and Ruth (Isaacson).
Carroll was the oldest of five children. He graduated from Annandale High School in 1934 and earned a business degree from the University of Minnesota in 1939. His ancestors immigrated from Småland, an area in southern Sweden.
Carroll entered the U.S. Army as a private in 1941. He worked in the air defense in the San Francisco and Seattle areas, where he earned the rank of staff sergeant and then lieutenant. He was sent to Europe in an infantry company. For his service in Europe, Carroll received three Battle Stars, the Bronze Star with a Cluster, and recently became a Chevalier (knight) of the French Legion of Honor. Carroll fought in the battle at Rhineland/Colmar in France, the battle in Ruhr Valley in Central Europe, and the Battle of the Bulge (Ardenns/Alsace). He served with the occupation forces as part of the military government in Germany during the reconstruction period and helped with many projects restoring city government and facilities in Laasphe, Germany where he served as Bergermeister (mayor). Carroll retired from active duty in 1946 and retired from the Army Reserves as a full colonel in 1976. He was named Man of the Year of the 75th Division by the Veteran's Association in 1985.
Carroll began working at the Fair Store in Escanaba, Michigan after completing his active military service. Here, he met his beloved wife, Marguerite, who worked on the second floor of the store. They were married for 50 years and were a team in both business and life.
Carroll and Marguerite moved to Delano in 1953 where they opened the Lundeen's Men's Store. The store flourished and was a mainstay in Delano, open sixty-three hours a week for over thirty years. The couple also started the Delano Dairy Queen with Phil and Helvie Carlberg in 1967. They also opened a Dairy Queen in Maple Plain. Carroll was an active member of the Delano community. He was a member of the Civic Club (a forerunner of the Delano Chamber of Commerce). His convertible was used to drive Miss Delano in many parades for over 20 years. Carroll was on the first planning commission for Delano from 1960-1966. He was instrumental in applying for a federal grant to help the city draw up zoning maps, ordinances, a comprehensive plan and reports for the future of the city. He was the charter member of the Delano Industrial Organization and served on the city council from 1967-1970. He assisted in the planning and building of the city dikes in 1965 and worked with the Army Corps of Engineers on the construction. He was a long-term member of the Tri-County Toastmasters Club and a member of the Delano United Methodist Church. He served on many committees and assignments at the church. He was also a director of the State Bank of Delano for nearly thirty years (1973-2002). Carroll was honored as a Delano Citizen of the Year in 2001.
Carroll married Aileen Eklund several years after the death of his wife, Marguerite. Together, Carroll and Aileen moved to Summit Place Senior Living Campus in Eden Prairie, MN. They were married until Aileen's death in 2013. Carroll lived a full and active life late into his nineties, surrounded by loving family and excellent care services. He enjoyed the many programs offered at Summit Place as well as frequent family outings and visits. He died peacefully and with family present.
Carroll was preceded in death by his first wife Marguerite, his second wife Aileen Eklund, and his siblings Kermit (Margaret) Lundeen, Grace (Dwight) Peerman, and Joyce (Jack) Thommen. He is survived by his children Gail Lundeen Brand (Ron Brand), John Lundeen (Donna Walker), Kay (Paul) Ling, his grandchildren Nora, Shannon, Ellen, Thomas, Lauren, Natalie, Abigail, and his sister Virginia (Armin) Luehrs.
Funeral service were held at 11 a.m. Friday, April 15, 2016, at the Delano United Methodist Church, 3310 County Line Rd, Delano. Visitation was on Thursday, April 14 5-8 pm at the Iten Funeral Home in Delano. Visitation continued Friday 10-11 a.m. prior to service at church. Interment was in the Woodlawn Cemetery, in Annandale. A special thank you to Carroll's competent and devoted caregivers at Summit Place in Eden Prairie.
* Edited from article, "Delano to Honor 'Citizens of the Year'." The Delano Eagle 2, April 2001: Vol. 129, No. 32.