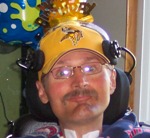 Chadwick Heller
6/22/2013
Chadwick Anthony Heller, "Chad" age 40 of Waverly passed away on Saturday, June 22, 2013 at his home in Waverly. He was born May 22, 1973 to Glen and Mary (Geyen) Heller in St. Cloud, Minnesota.
Chad was a kind and gentle soul, he was a loving son, brother and friend to many. Anyone who met Chad, loved him. He had a way of connecting with others. Chad and his family felt very connected to the people of Waverly who have opened up their homes and made the family feel loved and cared for. Chad loved sports, especially the Minnesota Twins and Vikings. The computer opened up his life and made communicating so much easier. He could express himself and use his music and pictures to convey his thoughts. He looked forward to summer, his favorite time of the year.
Chad was preceded in death by his grandparents Reuben and Betty Heller, Donald and Evelyn Geyen; aunts and uncles Gene Geyen, Diane Geyen, Barb Geyen, Bob Geyen, Jim Geyen, and a cousin Jessica Moe.
He is survived by his parents Glen and Mary Heller; brother Ryan Heller; aunts and uncles Donna (Terry) Miller, Jerry (Selma) Geyen, Bill Geyen, Patti (Jerry) Kranz, Jayne (John) Spartz, Mary (Marty) Olson, Cathy (Jack) Moe, Cindy (Scott) Montgomery, Doug (Sheila) Heller, Mark (Patty) Heller, and Kim (Ed) Hanson; as well as many nieces, nephews, cousins and friends.
Memorial Mass of Christian Burial was held on Saturday, June 29, 2013 at 10:30 a.m. at Church of St. Mary in Waverly, Minnesota. Inurnment was in the church cemetery.