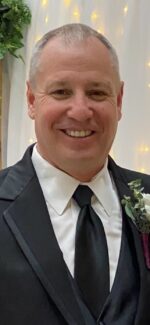 Christopher Donald Arens
November 30, 2021
Christopher Donald Arens, age 58 of Delano, passed away Tuesday, November 30, 2021, surrounded by his wife and children.
Chris was born September 29, 1963, in Watertown, MN, to Donald and Millie (Wachman) Arens; and was baptized at Ss. Peter and Paul Catholic Church in Loretto, MN.
Chris attended grade school at Ss. Peter and Paul Catholic School in Loretto, and graduated from Delano High School, where he played football and was a wrestler.
After high school he worked with is Uncle Norman in Masonry in Loretto. At the age of 19, he enlisted in the Army as a Systems Mechanic. He was honorably discharged nearly three years later at the rank of Sergeant.
Chris worked as a Driver/Mechanic at his father's trucking company, Don Arens Trucking, for 12 years. He joined Herc-U-Lift in Maple Plain, November 30, 1992 as a mechanic, service manager, and for the last 15+ years as a Parts and Service Sales Representative.
Chris had a love for all things outdoors. He was an avid fisherman and hunter. He would spend most of the fall either in a deer stand or bird hunting with his sons, daughters and his dogs. He loved spending time with his wife, children, and nieces and nephews, playing outdoor games, cards, and shooting trap. He was known and respected for his gun safety training classes that he provided for many people, young and old.
As a follow-up to his military service, he devoted a lot of his time with the American Legion Baseball team as manager. And his involvement in baseball programs in the city of Delano will not be forgotten.
He was also known as the man that everyone called to fix anything and everything. He often received phone calls that started out with, "Hey, what do you know about this?"
Chris was united in holy matrimony to the love of his life, Jill Stevens, May 5, 1990. They were blessed with five beautiful children, and one grandchild on the way.
He was preceded in death by his father Donald and father-in-law James Stevens. He is survived by his wife Jill (Stevens); children Michael Arens, Matthew Arens, Anna Arens, Abi (Matt) Robinson, Nicole (Sam) Haley; baby Robinson on the way; mother Millie Arens; siblings Carrie (Scott) Hayes, Tony (Shadow) Arens; mother-in-law Nancy Stevens; brothers-in-law and sisters-in-law Chris (Rodger) Vieau, Bill (Sabrina) Stevens, Jon (Brenda) Stevens, Cay (Jason) Griep; Becky (Jason) Groskreutz; as well as many nieces, nephews, cousins and friends.
Mass of Christian Burial was held at 11 a.m. on Saturday, December 4, 2021 at St. Maximilian Kolbe Catholic Church, St. Peter's campus. Visitation was held from 4 to 8 p.m. on Friday at the Iten Funeral Home in Delano, Minnesota. Visitation continued on Saturday from 9 to 10:40 at the funeral home prior to leaving for Mass. Interment was in St. Joseph Catholic Cemetery with Military Honors in Delano, Minnesota. In lieu of flowers, memorials preferred.
The Mass was live-streamed through the link provided below: