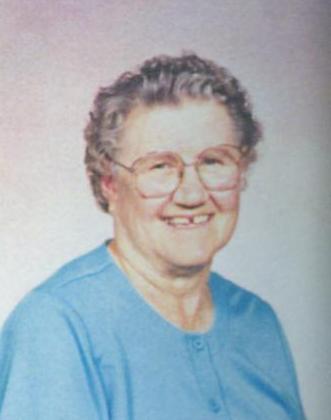 Clara Ida Broll age 89 of Park View Care Center, formerly of Waverly passed away on Tuesday, September 18, 2012 at the Park View Care Center in Buffalo, Minnesota. She was born July 23, 1923 to Mathias and Mathilda (Gritz) Loch in Forest Prairie Township, Minnesota.
Clara attended District 35 Country School. She was united in marriage on September 26, 1944 to Edward Raymond Broll. She and Edward were lifelong Dairy farmers south of Waverly. In 1965 Clara started her chicken business in addition to the Dairy Farm, raising 5200 laying hens and a couple hundred fryers for butchering for over 20 years. She and Ed loved old time music, spending many hours going and dancing and enjoying their time together.
Clara stayed on the farm until 1996 when she moved to Sunrise Assisted Living in Buffalo where she resided until 2006, when she moved to Park View Care Center in Buffalo.
Clara was preceded in death by her husband Edward on June 7, 1987; son Gary; sisters Caroline DeMorett, Marie Schultz and Marcella Neu. She is survived by her son Ronald (Mary Lou) Broll; grandchildren Cheryl (Derek) Sutton, Gregory (Hiedi) Broll, Michael Broll; 5 grandchildren Ashley, Courtney and Rachel Sutton, Kaylee and Blake Broll; sister Margaret (Kenneth) Hennen.
Mass of Christian Burial was held on Saturday, September 22, 2012 at 11 a.m. at Church of St. Mary in Waverly, Minnesota. Interment was in the church cemetery.