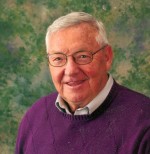 Clarence (Deacon) Bruhn
December 5, 2017
Clarence "Deacon" Bruhn age 88 of Delano, MN. passed away on December 5, 2017 in Delano.
Deacon was born on November 17, 1929 to Frank and Frances (Lemmerman) Bruhn in Silver Lake, MN. He was married for 42 years to Eleanor "Elly" Hanson of Delano, MN.
Deacon was preceded in death by his parents and his wife Elly. He is survived by his three sons, Doug (Pat), Brad (Carol), Greg (Carol); granddaughters Allison (Anthony) Hesano, Jacque (Ben) Gottlieb, Ashlee Finn-Bruhn, Meghan (Stuart) Schumacher, Kate and Claire Bruhn; 6 great grandchildren; sisters-in-law Ann Jackson and Ruby Hanson and his dear friend Marion.
Deacon lived a life time of service, volunteering at Mt. Olive Lutheran Church, The United Way, Delano Friends of the Library, Relay for Life, The City of Delano, the Ridgeview Foundation and the Ridgeview Hospital. His passion was to be around people, which led him into volunteering later in life. After a thirty year career at the Delano Granite Works, he started his second career of selling cars at Star West in Delano finally retiring in 2005. Deacon was honored with the Delano Citizen of the Year award in 2008 being recognized for his contributions to the local communities.
Funeral services were held on Monday, December 11th at 11 a.m. at Mt. Olive Lutheran Church in Delano. Visitation was on Sunday from 4 to 8 p.m. in the church and continued on Monday from 10 to 11 a.m. prior to the services. Interment was in the E. Mt. Olive Cemetery in Delano, MN.