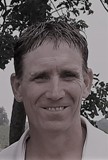 Craig Guetzkow
August 4, 2019
Craig Duane Guetzkow age 48 of Watertown, passed away on Sunday, August 4, 2019 with his family by his side after a courageous battle with cancer. He was born November 7, 1970 to Dale and Kathy (Yantes) Guetzkow in Watertown, Minnesota.
Craig was a loving husband, father, son, brother, son-in-law, uncle and friend to many. Craig loved life and it showed in the way he conducted himself. He had a passion for the outdoors, snowmobiling, hobby farming, hunting, fishing, canning, cooking and riding his motorcycle. He could be the life of the party and get everyone laughing. He was known for his generosity and always willing to help attitude.
Craig graduated from Watertown High School in 1989 and continued his education at Hennepin Technical College. He made his career as a certified automobile technician.
Craig was united in marriage to Tonya Lea Quast on August 27, 1994 at Immaculate Conception Catholic Church in Watertown, Minnesota. They were blessed with their son Riley in 2001.
Craig was preceded in death by his father Dale Guetzkow. He is survived by his wife Tonya; son Riley; mother Kathy Guetzkow (special friend Kenny Peter); brothers Stacy (Heidi) Guetzkow, Chad (Renae) Guetzkow; mother-in-law Karen Hess; sisters-in-law Michele Quast (Jamie), Jenni Blue; nieces and nephews Kayley, Ella, Griffin and Greta.
Memorial Mass of Christian Burial took place at 11 a.m. on Saturday, August 10, 2019 at Immaculate Conception Catholic Church in Watertown, Minnesota. Gathering of family and friends  occurred from 9 to 11 a.m. on Saturday in the church prior to services.